What better way to add value and activity to your pool than by adding both a basketball hoop and a volleyball net. Don't be surprised if this pulls in your kid's friends and see some epic basketball dunks and energetic games.
Have a look to see what game sets are available and get playing!
I've put together a list of the best pool basketball volleyball 2-in-1 combo game sets you're going to love.
Feel free to browse and read our in-depth reviews further down as well as perhaps consider buying a separate basketball hoop and volleyball net that can stay there all the time saving you having to swap over.
[toc heading_levels="2″ class="have_bullets"]
★ The best pool basketball & volleyball combo sets ★
Our top picks at a glance
Image
Product
Details
 

★ Top pick! ★

Dunnrite Pool Sport 2-in-1

Easily converts to either game without tools. Base weighs 115 lbs filled w/ water
Vinyl coated 13.5 inch stainless steel rim. Stainless steel hardware
16' volleyball net for up to 22' pool. 3 yr warranty

Check at Amazon

Swimways 2-in-1

Easily switch between your favorite pool games.
Water filled base and plastic material provides strong stability during play
EASY TO ASSEMBLE: No tools are required for setup.

Check at Amazon

Poolmaster Pro Rebounder

Specially designed for in-ground pools. Durable all-weather hard backboard
Game bases can be filled with water or sand for weighted stability
Includes 2 balls and inflating needle

Check at Amazon

Easy use

Pool Jam In Ground

Insta-snap conversion from basketball to volleyball. Super easy changeover!
Hardbody design with super-sized basketball backboard
Quick and easy to assemble

Check at Amazon
Product details & reviews
1. Dunnrite PoolSport 2 in 1 basketball + volleyball hoop set
The Dunnrite Pool Sport 2-in-1 is a popular choice for many people thanks to its pleasing design, durability, and ease of use. You get all of that for a reasonable price (around $200 or so).
Switching from one game set up to the other is easy and you don't need any tools! 
Volleyball
22 foot volleyball net
Basketball
The rim sits at a fixed height 36 inches above the deck while the hoop is a 13.5″ junior size (still just the right size for a fun pool game).
The set includes a basketball, a pink volleyball. and a ball pump.
You can't expect stainless steel at this price and there is a tendency for the rim to rust unless you grab a can of Rustoleum at the beginning of each season and give the rim a nice clear coat to protect it.
Alternatively, there's a replacement stainless steel hoop available, too!
It's a great set you can't pass up. Find out now why
2. SwimWays 2 in 1 Game
Nice for both adults and kids, the Swimways 2-in-1 came combo has a lot to offer. Let's start with the good: It's all plastic which means there aren't any parts that can rust.
Just like with other combo sets it offers set up for either basketball or volleyball. Seems obvious but some people are not aware that the posts can either be used for volleyball or basketball, not both at the same time.
Changing over doesn't require any tools and is snap to do!
The volleyball net size is a nice 24 feet. The basketball is well design and easy to move, too, but not adjustable. It's well designed and stable: the water-filled base and plastic material provides strong stability during play.
Set includes both a basketball and volleyball along with 1 basketball hoop and 1 volleyball net.
It's a nice one, and I'm really happy with how simple it is to use. Check out the
3. Poolmaster 72775 Volleyball/Basketball COMBO Inground Pools
The Pro Rebounder Combo set is the only one that allows you to have your pool ready for volleyball and basketball at the same time. No parts to change between games – you're always ready to go!
The volleyball net can be used for pools up to 38′ in width.  It's well made for the money (under $150).
The volleyball has a nice feel, weight, and size for family fun games. The included net is 16' x 30'' and extends to 38'
One of the best rated portable sets today, the Pro Rebounder set is one of the toughest also thanks to the weather-resistant hard backboard.  The rim isn't adjustable, though, as it sits at a fixed height above the deck
(Don't play volleyball? See my review of the Pro Rebounder hoop here.)
You'll get a basketball, volleyball, 1 basketball hoop and backboard and base, 1 volleyball net, inflatable vinyl ball, volleyball net, volleyball game bases, poles, and inflatable deluxe game ball with inflating needle
It's not just one of the best looking around but also one of the best in quality!
Head over now and
4. Swimline 9190 Pool Jam In-ground combo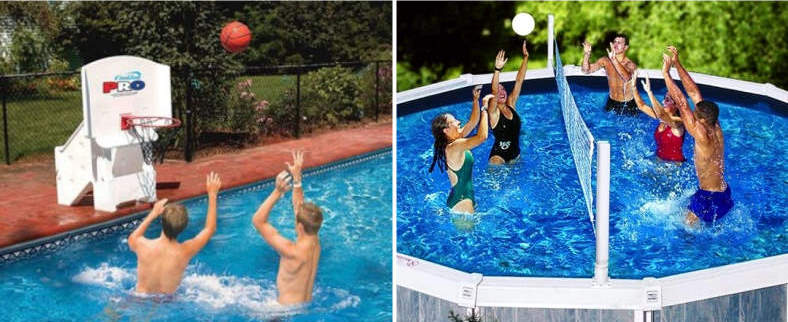 It's easy to set up right out of the box, just slot in the pieces and fill the base with water using a garden hose pipe.
It's an all-plastic set so there are no parts to worry about rusting. There's a nicely designed basketball hoop base to keep it steady during your great 3 point shots as well.
Want that professional sports feel from the fun of your pool? You'll get all that and a price that's under $150.
No headaches when setting it up or when it's time to swap up the fun: changing over doesn't require any tools.
You get a 15 foot volleyball net and the basketball rim sits at a fixed height above the deck. Since the base features a more compact design than others, it's a great match for many decks or pool surrounds.
The set includes both a basketball,  volleyball, 1 basketball hoop and 1 volleyball net.
It's a well made, hassle-free way to get fantastic pool sports fun. Take a moment and
Great pool basketball & volleyball sets to combine
Most 2-in-1 sets have one big disadvantage: You can only play either one or the other games. Either basketball or volleyball and it always requires some reassembly.
If you like to have both available all the time have a look at these 2 great combinations of game sets that are similar in style.
Dunn-Rite Aqua Volly + Splash & Shoot – 2 portable poolside basketball & volleyball games
The AquaVolly includes 2 white heavy-duty plastic bases with sturdy no rust aluminum posts. The net spans pools up to 24 feet wide but you can shorten it if needed.
The Splash and Shoot basketball hoop made by Dunnrite is a great game all on its own. It looks good at the poolside, doesn't budge and the hoop height can be adjusted.
A big plus is a no-rust hardware feature: stainless steel rim and bolts ensure a long life.
No products found.
…works great with…
No products found.
Dunn-Rite Clear Hoop – 2 DECK MOUNTED Pool Basketball Volleyball Games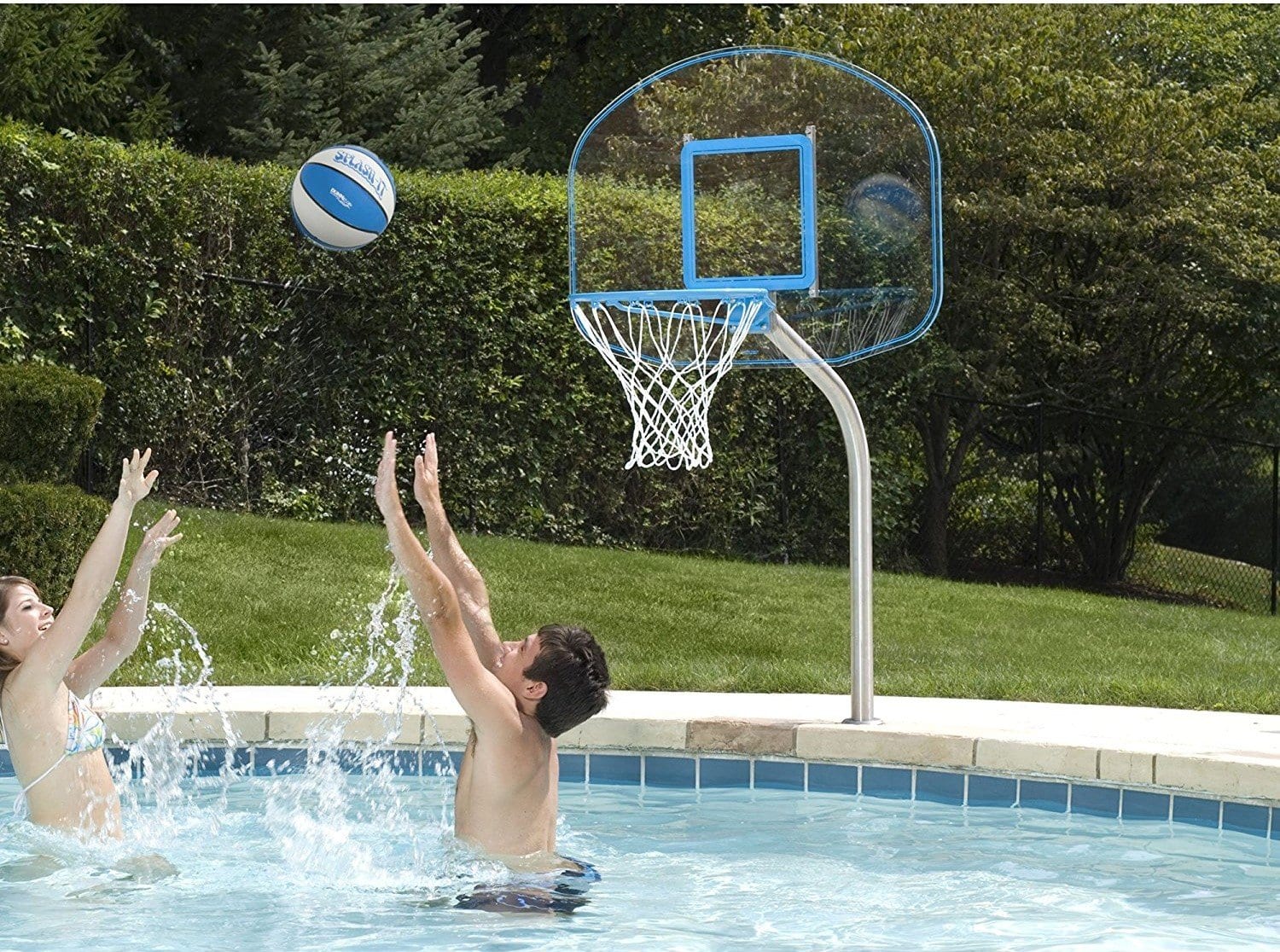 Ready to go for a stylish looking addition to your pool? If you like to keep your pool environment tidy this is one of the best combinations money can buy.
The Dunnrite Junior clear basketball hoop is sturdy and just like playing with pro-level backboards costing several times more.
The great looks add a touch of style and design. Stainless steel and brass hardware throughout ensures years of exciting fun that looks great, too.
It's for higher-end budgets, by the way (near $550 for the Dunnrite Junior clear).
The volleyball posts are also made of stainless steel and include escutcheon rings to cover up rails prior to installation to cover the anchor socket or grout prior to installation.
The 24 foot net is long enough for most residential pools and can be adjusted for a custom fit.
No products found.
…works great with…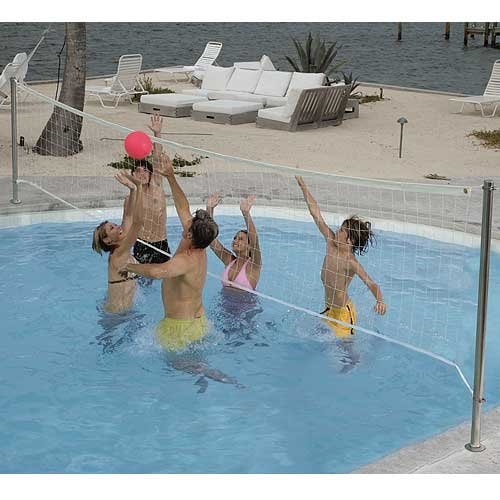 The Dunn Rite Pro Volly Retrofit kit (priced near $100 or so) is an affordable way to get the real volleyball experience. Just like more expensive sets!
Designed to fit existing 1.5″ PVC inserts (or 1.90″ ladder anchors) it features long-lasting power coated aluminum posts. There's a durable 24 foot adjustable net to fit nearly all pools, too.
And don't forget the brass and stainless steel hardware included – that also means you'll get years of fun without worry. Throw in the included bright volleyball for easy visibility, and you've got the perfect volleyball game setup!
No products found.
More great pool sports buying guides
There's lots more to pick from! Check out my other helpful buying guides: