This post was last updated on August 5th, 2018 at 09:37 am
Pool cover pumps are an important part of pool maintenance for above ground pools as well as inground pools.  Keeping the pool cover free of excessive water and debris will greatly enhance the lifespan of your expensive pool cover tarp. It is also necessary to remove water when opening the pool in spring to avoid the cover being ripped and damaged.
While it is possible to remove water just with a garden hose this can take days if it is just being siphoned off. Sooner or later most pool owners purchase a pool cover pump for this purpose.
In this review we have a closer look at the Little Giant PCP 550.
What buyers have to say about the PCP 550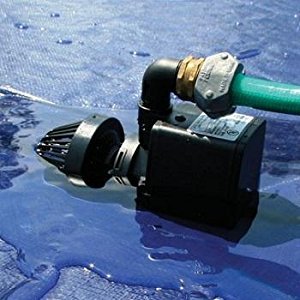 The PCP550 is a manual pool cover pump with a capacity to pump 550 gallons per hour. It's not overly fast but it does the job in time without clogging. It will definitely remove water a lot faster compared to just siphoning it off.
The pump can be easily connected to a bog standard 3/4-inch garden hose. It is then placed and submerged on the cover, plug into a socket and it starts pumping away.
Buyers keep being impressed by the high quality at this price (under $70). High quality means the pump is very reliable, the housing is sturdy and durable and it doesn't get clogged up thanks to a cone shaped cage at the intake. Especially great for above ground pool covers with tarp style covers. 
What buyers didn't like
Mainly it comes down to two things: Sometimes buyers aren't aware that this is NOT an automatic pump which means the user has to decide when to plug the pump in and when to switch it off. If you want a complete set and forget pump have a look at the xxx here.
Secondly, they would sometimes wish the pump would have a bigger flow rate for faster water removal.
So, as long as the owner expects a plug in and pump away device with a decent flow rate and knows that the pump needs to be plugged in and off manually they are usually happy with their purchase, especially considering how well it is made and lasts for this price.
Features and Tech Spec of the PCP550
Type: Manual Pool cover pump

Manual means that it is not an automatic pump but needs to be manually plugged in or off to operate. It does require power for the pump 

3/4-inch garden hose connection

A 3/4 inch is the most common diameter for garden hoses. No extra fittings required.

Flow rate 550 GPH 

A flow rate of 550 gallons per water is one of the best values for pumps under $70 and it's by far faster than siphoning.  To give an example what to expect: 

draining 6″ off the cover of a 18 ft round pool takes 4-5 hours

8 foot shutoff

It is unlikely that your pool cover will ever be under that much water. 8 foot is a very generous limit considering the purpose of the pump.

Removable intake screen

The cone shape of the intake screen does a brilliant job of preventing leaves and bigger debris to get stuck and clogging up the pump. Esay to remove and clean if required when the pool is full of leaves or big debris. 

25 foot cord

is enough for most pool owners if a socket is nearby. Otherwise an extension lead might be needed. 
FAQs about the Little Giant PCP550
To what water level does the pump work?
The pump is designed to pump water while the intake is submerged in water. Once it starts to be exposed to air it will still pump water until there is about 2-3 inches of water on the cover. If laid on its side it can pump to a slightly lower level.
After it is unplugged, the pump will continue to remove water until it drains below the cone-shaped intake screen as it acts like a siphon when the power is turned off provided the end of your hose is lower than the pump. This is useful when you want the water to drain without supervision and don't want it to burn through once it has reached the minimum water level.
As the remaining water and the pump are pushing the cover down the pump will sit at the deepest bit of the cover. This means 2-3 inches in that area isn't very much overall and is little enough for you to pull the cover off.
Can you leave the pump on the pool cover in freezing temperatures?
If the pump is submerged UNDER ice it will just pump normally. However, it is not recommended to leave the pump out in wintry conditions where it might freeze in.  The manual states: "Remove pump when conditions will cause water to freeze.
Freezing water may result in rupture to pump and could result in possible electrical short."
Do you need any other accessories for it to work?
A standard ¾ inch diameter garden hose is required. It needs to be long enough to bridge the distance from the pump to where you want to drain the water. No other parts or accessories are necessary.
How well is it made?
Even though the housing including the elbow for the hose is made of plastic it is very durable and solid.
Does it switch off automatically?
No, the pump will keep operating until it is unplugged. It is a very robust pump people have reportedly let it run dry without damaging it. However, it is highly recommended to unplug it as soon as it starts to suck air i.e. at 2-3 inches water left.
VERDICT
 Best manual pool cover pump at this price.
A small, easy to use, effective pump to keep that water off your pool cover in the winter. Not suitable for extreme amounts off water as that would take too long. Needs to be switched on and off manually.
 The video below explains how to remove water from your pool cover before winter.

If you need a pool cover pump that removes water when needed have a look at our review of the Best Pool Cover Pumps including automatic ones.