[toc heading_levels="2,3″ class="have_bullets"]
Swimming Pool Child Safety Danger Statistics and Facts
While it's challenging to think about, there are dangers to be aware of when planning to babyproof an above-ground pool. Keep these numbers in mind as you get to work.
The CDC estimates that year over year, close to 4,000 people will die by drowning. Over 8,000 nonfatal drownings will occur that lead to brain damage, disabilities, and long-term health concerns.
Of those numbers, children between the ages of 1- and 4-years are most likely to drown. Most children who drown do so in swimming pools, though children can drown in less than 2 inches of water.
After car accidents, drowning is the second-leading cause of death in children between the ages of 1- and 14-years.
Installation of a proper pool fence has been shown to lower the risk of pool injuries and drowning of children by up to 50%.
By educating yourself and your loved ones on pool safety, you'll be in control. Have the best chances for a fun, safe time by the water with our childproofing tips!
What Can You Do to Childproof Your Pool?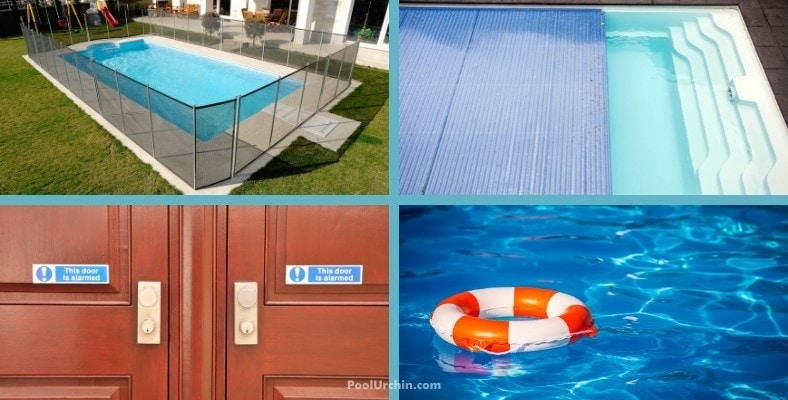 Here are some basic steps you can take to make your pool safer.
Install a Fence
Consider a pool fence installation. This is a sure way to keep young children away from the water. Consult a local pool safety professional about how to babyproof an above-ground pool with a safety fence.
These professionals can walk you through the proper height and gates that you will need to use. Be aware that gates will need to be 4-5 feet high, four-sided, and climb-proof for your planning.
Use a Safety Cover
Look into installing a safety pool cover in and out of season. There are many types to choose from for above-ground pools. We suggest a tense top one. Make sure water doesn't collect on top, which is a drowning hazard.
Also, remember that solar and cold weather pool covers are not the same as safety pool covers. Using these covers alone can increase children's chances of drowning if they fall in a pool because children can get trapped in them if they fall in.
Set Alarms on Doors and Windows
If you have a home security system, consider setting it to chime whenever an exterior door or window is opened. Or consider installing alarms to doors that lead to your pool.
Own Pool Safety Equipment
All residential swimming pools should have a few pieces of safety equipment inside the perimeter of the pool. This should include a life hook and a buoy ring. Have children fitted for life jackets that are approved by the US Coast Guard.
Keep these with the rest of the pool safety equipment within reach of the water. Those who can't swim should wear life jackets in the pool.
Using a Pool Alarm to Keep Your Little One Safe
When considering how to babyproof an above-ground pool, think about installing a pool alarm for extra safety. There are a few different alarms to choose from that work for above-ground pools. Think about what features might work best for your family's needs.
How Do Pool Alarms Work?
While different alarms have different bells and whistles, there are four basic kinds. We'll describe each and go over how they work.
Threshold Alarms
Place this type of alarm on pool gates or doors that open out to your pool. There are a few different kinds, but they all work with sensors. If the gate is opened, the sensors' connection is broken, setting off the alarm.
Surface Sensor Alarms
There are different kinds, but they all work the same. They float on the surface of the water and measure water displacement or ripples.
Subsurface Sensor Alarms
Different kinds either sit on your pool deck or railing, with a piece that goes into the water. Keep it on to measure water disturbance or turn it off when you get in the pool.
Personal Alarm Devices
Use these when you can't use other types of alarms or when you are out somewhere with a water body. They are sensitive to water and go off when you get them wet. These alarms are on wristbands and work well for adults, children, and pets.
More Information to Know About Pool Alarms
Check your state laws when thinking about how to babyproof an above-ground pool. While most states don't require alarms, some do. In some cases, the county you live in might have its own laws concerning pool ownership.
General Tips for Pool and Baby Safety
Always lock doors in your home that lead to a pool, even if you have alarms on them.
Remember that pool alarms are never a replacement for adult supervision or a pool safety fence.
Never prop open the gate to your pool fence.
Use a removable pool ladder, so children don't try to climb it and fall in.
When thinking about how to babyproof a pool, consider having all caregivers and adult family members take an infant and adult CPR class.
Teach young children how to swim early on by a certified teacher.
Go over pool rules before children get into unfamiliar pools.
Teach children about pool safety, like no running around a pool.
Keep towels and pool toys off poolside decks where they can be tripped over.
Remove pool toys and floating devices from the pool when it's not in use. This will discourage children from going into the pool to get them.
Don't underestimate adult supervision. Never take your eyes off children in the water. Have adults take shifts so someone is always with the kids, and everyone can relax.