There is a good variety of floating and inflatable basketball hoop games around. You might even have spotted one in your local Walmart.
Have a look at what options there are available online and how much you'll have to spend for a good quality inflatable basketball game and what ages they're right for.
[toc heading_levels="2″ class="have_bullets"]
★ The best floating basketball hoops ★
Our top picks at a glance
Image
Product
Details
 

★ Top Pick! ★

GoSports Splash Hoop 360

Includes 2 balls and pump! New modern design
Sturdy frame beats inflatable designs
Takes only seconds to assemble! Lasts for years

Check at Amazon

Intex Floating Hoops Basketball

Super affordable - under $16
Durable 10 ga vinyl
Base fills w/ water for added stability

Check at Amazon

Easy storage

COOP Hydro Springs Hoop

Awesome bright color design. Springs open for fast use
Twist-n-fold makes storage a snap!
Includes storage bag and foam ball

Check at Amazon

Huge size!

Swimline Giant Shootball

Whopping 45" x 36" size is a blast to use.
Mutiple ports for more shooting fun
Smarty vinyl design. Includes long-lasting ball

Check at Amazon
1. GoSports Splash Hoop 360 Floating Pool Basketball Game
Let's start with the winner. The GoSports Splash Hoop 360 ticks all the boxes for a pool game. It's very easy to assemble, no tools required and it's especially handy if you don't like having to blow up inflatables with your mouth and don't want to worry about air leaks and punctures over time.
It does seem slightly on the expensive side but what you pay for is a sturdy, well made floating basketball hoop that won't topple over in the slightest breeze or splash.
The basketballs are about 7″ in diameter and can be inflated with the included pump.
My top recommended floating basketball hoop – you'll love it!
Don't miss out on tons of pool fun! Find out now why
2. Intex floating hoop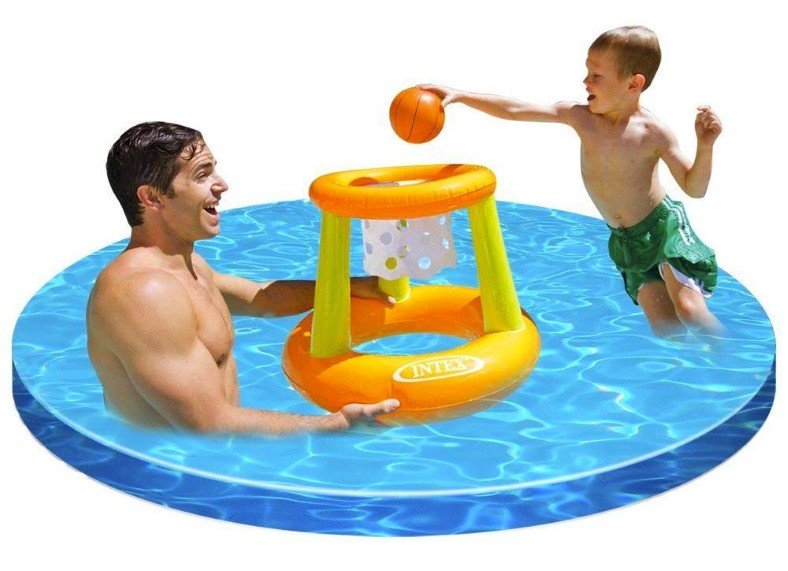 The Intex Floating Basketball Hoop in yellow and green is easy to spot in the pool. It's a great little toy hoop! Don't expect too much, though. It is quite light and will float and move about in the slightest breeze.
It's best for parent/child play. Ideally, you'll want to use your own, slightly heavier ball to play as it is more like a mini beach ball, very light and difficult to aim with.
You can fill the base with water to prevent it from tipping over. Very cool!
Great buy as an inflatable toy that can ALSO be used for basketball. You'll find kids start using this first as a ball game and then invent other games: diving under it, turning it over to use as a chair, a raft…you get the picture.
An inexpensive, versatile fun toy at this price. At under $25 (and even cheaper at Amazon!) it's a great buy for anyone.
Head over now and
3. SwimWays Hydro Spring floating hoop
If you want something more substantial and better made than the Intex toy above have a look at the Hydro Spring Basketball by SwimWays.
I like the textured feel of the fabric that covers the base. It's well thought designed with its plastic base providing enough weight to keep it upright. It's a cinch to set up and inflate.
It's a really good value for the money, too!
Find out now why
4. SwimLine GIANT Swimming Pool Basketball Hoop Set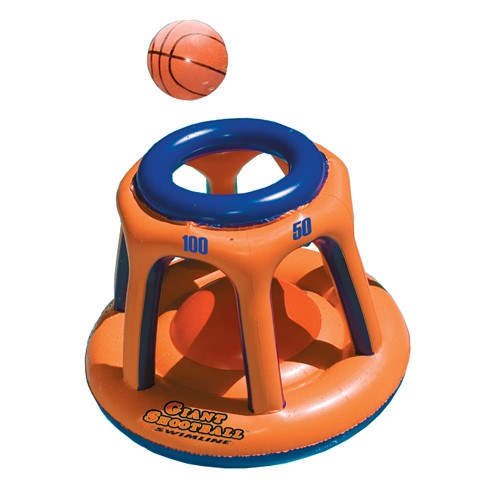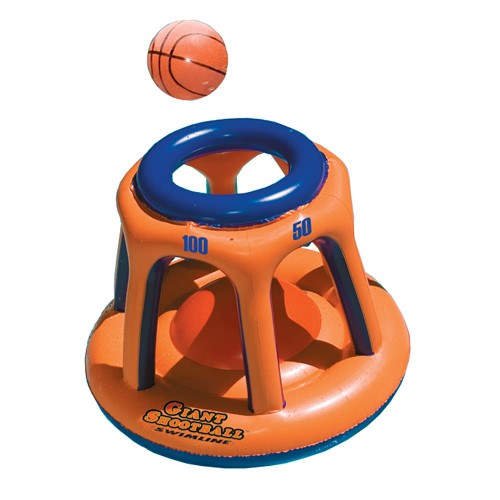 In case you didn't notice: you're in for GIANT fun!
Inflated it stands at a whopping height of 45″ tall by 36″ (3 feet) wide. Ideally you'll want to get your motorized pump out so you don't faint before the game even starts.
The hoop is made of strong vinyl and will last several summers – you'll get years of fun for your money. Even though it's tall it doesn't tip over thanks to its weight and large base.
I like the score numbers on top of the side ports and big side ports themselves. Competitive older kids and adults will soon spot these and invent new games. The side ports also allow younger kids to join in and score.
It comes with one basketball. Highly recommended – check the awesome buyer reviews! Great for ages 7 and up.
Want HUGE pool fun for a small price? Check out the
What to look for when shopping
Is the height appropriate for players?
Does the hoop stay upright after a hit or topple over easily?
Good quality & build will last over time
Are the basketballs heavy enough for good play and not too slippery?
More advice about floating pool hoops
The biggest disadvantage of inflatable hoops is the possibility of air leaks. So make sure you inflate as soon as possible after purchase to check for any manufacturing errors and to be able to send your purchase back to get your money back if need be.
On the other hand, as long as they don't leak they'll be used over and over again. Kids will quickly find other uses for them.
Thinking about a more grownup poolside basketball hoop? Read more here: