This post was last updated on June 7th, 2019 at 06:14 pm

Pool basketball hoops are like magnets, great for cool basketball dunks, family games as well as kids, teenagers and adults. Thankfully, in this day and age where most teenagers seem to be glued to their phones and Xbox, pool basketball hasn't lost its appeal.
Revamping and reviving the pool, an upcoming birthday or a pool party often prompt people to purchase a water basketball hoop. There is a lot of choice out there making it difficult to decide which one to go for. If you are in that position you have come to the right place for help.

We review the most popular pool basketball hoops below the chart to make it even easier for you, saving you time and money.  
BEST PORTABLE Pool Basketball Hoop
Dunnrite Splash and Shoot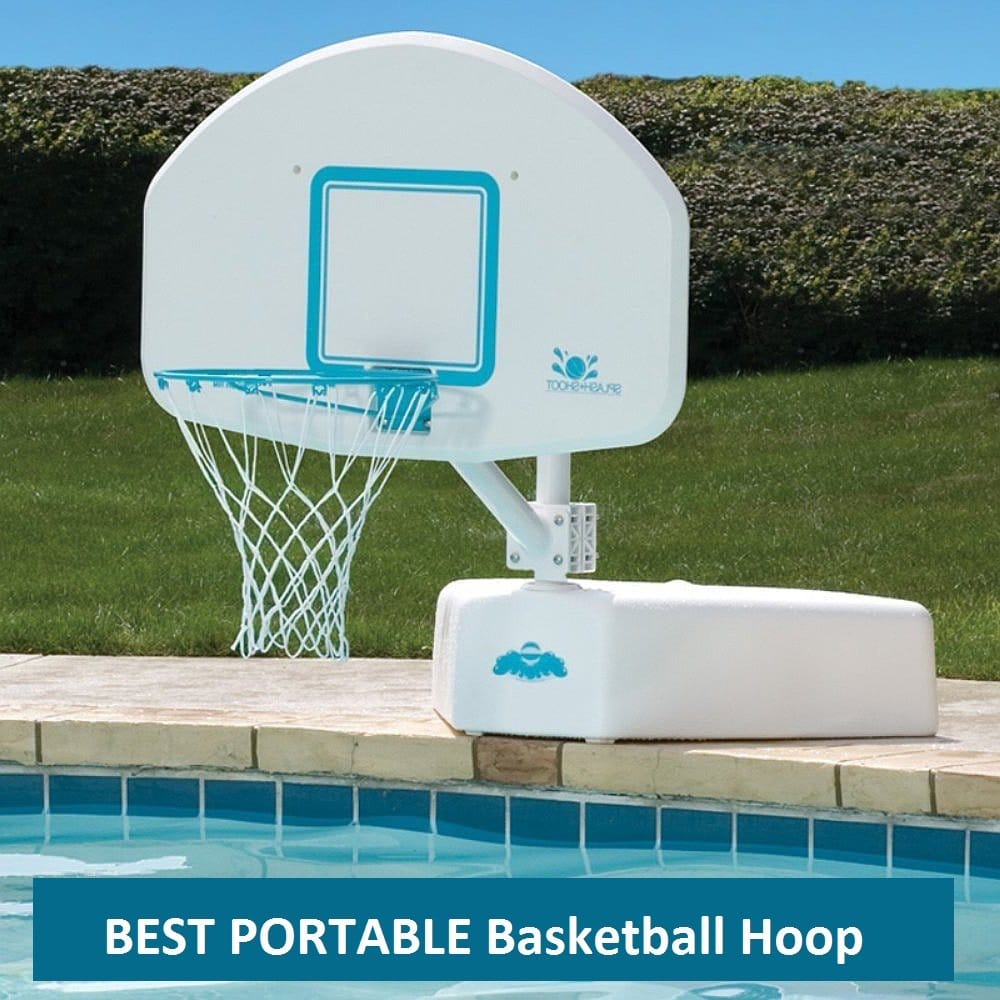 No Rust, Sturdy and Durable"
The Splash and Shoot basketball hoop made by Dunnrite has everything we look for in a poolside basketball net: 
Color scheme looks good at most swimming pool settings.
It doesn't budge thanks to its heavy base

The hoop height is adjustable

No rust hardware: The materials used are no rust in themselves. But Dunnrite went one step further and coated everything as well, really a belts and braces approach to withstand harsh pool conditions. Stainless steel rim with vinyl coating, powder coated aluminium post and stainless steel assembly hardware ensure a long life. 
3 Year warranty!!!

Basketball: A little smaller than a regulation size basketball. The grip is good, holds air well and color holds up well over a longer period of time i.e. doesn't fade
Average Price Splash and Shoot: $ 300 
CLICK HERE FOR PRICE AND AVAILABILITY
---
Best Value For Money: PORTABLE Poolside Basketball Hoop
Lifetime 1306 Pool Side Height Adjustable Portable Hoop
Our Best Value for Money hoop for in-ground pools has to be the Lifetime 1306. This is a height adjustable portable sturdy basketball system with great value.
There is also the almost identical Lifetime 1301. The only difference between them is the backboard. Differences in price really come down to competition in the market place.
Lifetime 1301 vs 1306
Style: IMPACT

 The 44″ Impact® backboard of the Lifetime 1301
with High-Density Polyethylene (HDPE) surface.
HDPE is a popular plastic: lightweight yet
super-strong and impact resistant. 
Long lasting and weather resistant, 
resists mold, mildew, rotting, and insects,
so will look still look great after a few seasons.

Style: WHITE FUSION

Lifetime 1306 features a transparent
44″ Shatter-Proof Fusion® backboard
with a Makrolon® surface. This material is
extremely robust, lightweight with
glass-like transparency and is impact resistant.

NEW FOR 2018:
Style: Blue Fusion


We recommend the Lifetime 1306 simply because we prefer the clear backboard over the one of the Lifetime 1301.
Even though a ball isn't included (get a regulation sized one or a junior size for younger kids) in neither the 1306 nor the 1301, it's great value at around $140.
Both models feature a powder-coated (i.e. it should last longer than merely painted) steel pole.
Even though this is better than paint, it will only be a matter of time until a tiny bit of steel is exposed and starts to rust. It's better to spray all painted surfaces with a clear coat or Rust-Oleum to keep it good-looking for more than one season.
The telescopic height adjustment allows heights between 4′ – 6.5′ in 6″ increments.
The base (43″ x 30″ x 7″)  can be filled with water or sand and won't move even in the most heated game.
It doesn't allow hanging from the hoops for older kids and teenagers but will cope nicely with slam dunks. We like the see-through backboard and slim base, making the hoop less obtrusive than big bulks of plastic. 

WATCH THE VIDEO below to see the Lifetime 1306, our most recommended and overall best pool basketball hoop, in action.
More reviews, shipping info and latest price of the LIFETIME 1306 HERE
---
Best DECK MOUNTED Basketball Hoop
Dunnrite Clear Swimming Pool Basketball Hoop
The only way to avoid the basketball hoop becoming a rusting eyesore is to go for a stainless steel model. The Clear Swimming Pool Basketball Hoop by Dunnrite is a very elegant, sharp looking, lasting solution.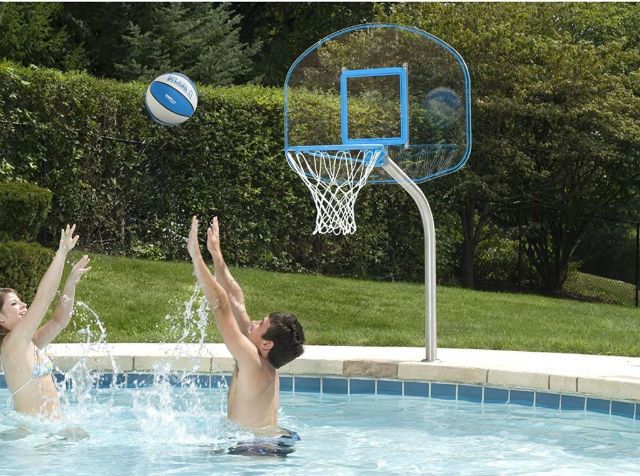 Good, lasting quality comes at a price. At $499 (including free shipping on Amazon) it's the most expensive hoop. We think it is well worth it because it is clearly designed for a harsh pool environment.
If you have already a sleeve in your deck or can get a concrete cutting company to drill a hole for the post (diameter 2 3/8in) you won't need the hassle of filling a plastic base with water or sand.

But what's more, the clear ⅕ inch thick clear backboard and curved stainless steel post look minimalistic, stylish and will do so for years to come as there is nothing that can rust.

Dunnrite offers two hoop sizes. The Junior is a little smaller in diameter allowing younger players to have fun with the smaller ball whereas the Regulation hoop is standard basketball size. Both sets come a with color-matched blue and white water basketball.
If you want to get really serious you could even check out some proper pool basketball rules here. 
MORE DETAILS AND CURRENT PRICE OF THE CLEAR JUNIOR HOOP HERE
Looking for a different design? Click on the image to see MORE deck mounted basketball goals:  

---
Poolside Basketball Hoops – LARGE, PLASTIC, PORTABLE
Here are three hoops for kids and family fun. The kind you can plonk on the deck and start shooting. We did make sure we only include models that are secure enough to not being pulled into the pool.
Here is what we found for under $200.
Poolmaster Pro Rebounder Poolside Basketball – Inground Pools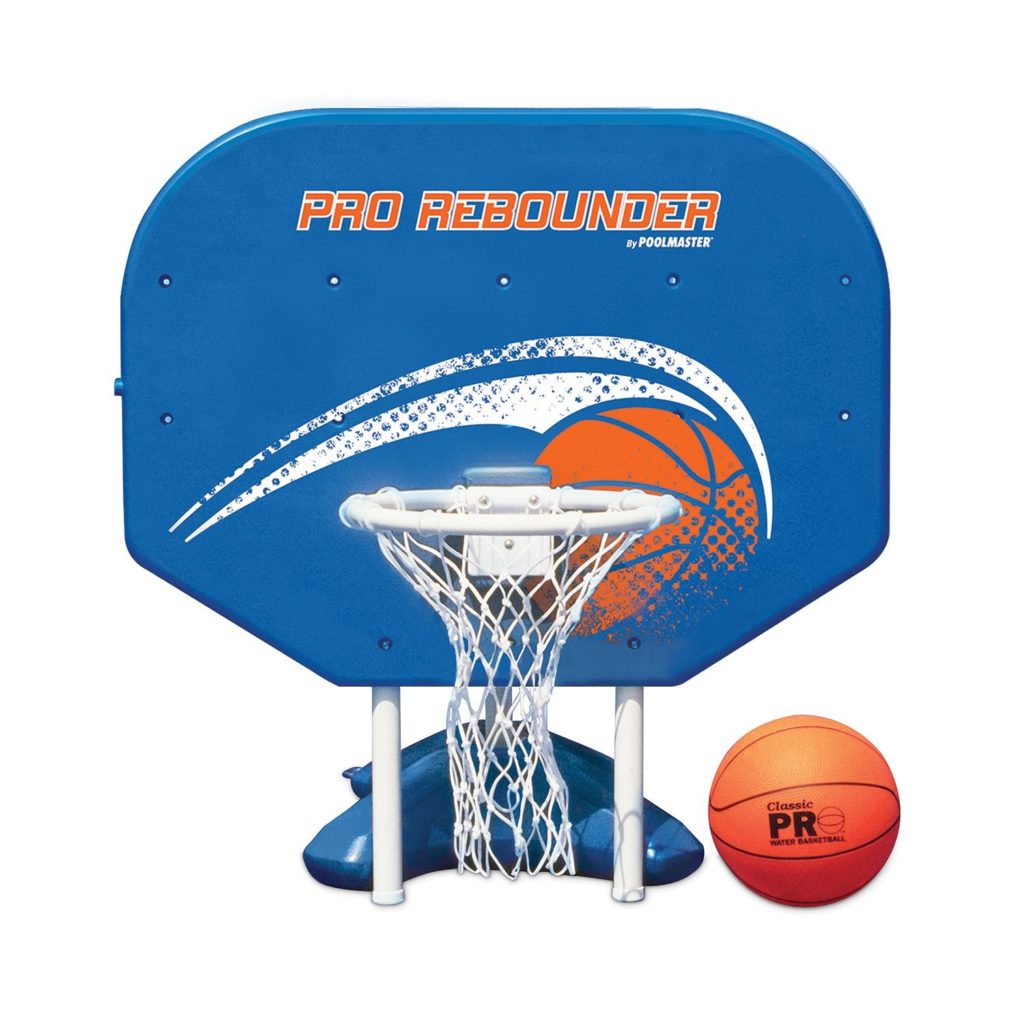 The Rebounder has been around forever. it does have its flaws but still  provides good play value, the rebound is good.  The base is fairly small (18 by 21 inches) making it easy to place it anywhere you want on the edge of the pool.
Very easy to assemble and, once filled with water it sits tight on the edge of the pool. The height cannot be adjusted. Unfortunately, even though the rim is stainless steel and the base plastic there is a rust issue. It's best if you could paint or spray everything with a clear coat.
This doesn't come with stainless steel bolts, so we'd recommend to exchange all the hardware with suitably durable bolts and washers before assembly.
VERDICT: Great, sturdy play value. Ideally, add stainless steel bolts and spray with a clear coat FOR LASTING VALUE.
Recommended for Ages 8+
Poolmaster Pro Rebounder Poolside Basketball Game for Inground Pools
 Pro Rebounder: CLICK HERE FOR PRICE AND AVAILABILITY
Poolmaster 72783 Pro Rebounder Height Adjustable: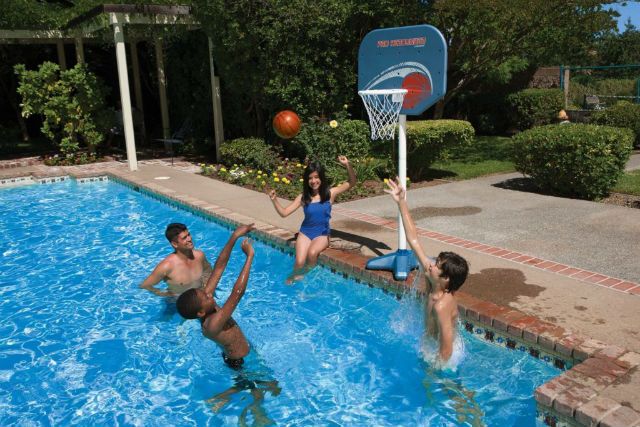 The board is identical to the model mentioned above. On this one, the height of the hoop is adjustable to 40″, 54″, and 74″ from the ground. Changing the height is not a straightforward affair because the PVC pipes have to be changed. We wouldn't recommend it if you want to adjust the height quite frequently, but it's ideal if you only need to adjust it to your preferred height.
The base (18 by 21 inches), once filled with water makes this a stable, secure set up. It won't tip over unless the game is very energetic but of course doesn't hold up to any hanging from the rim.
Unfortunately, the base has a lot of corners and edges, making the ball jump not always back into the pool after falling  through the net but rather outside a lot, so players will have to go and fetch the ball more often than usual.
VERDICT: Plastic Basketball Hoop Set with a 14" hoop, worthwhile entry model, definitely portable, but a few impractical flaws. A good buy for around $140. Additional costs to replace hard-wear with stainless steel bolts and washers. 
Swimline 9195M Super-Wide 44″ Cool Jam Pro
The largest and at around $190 the most expensive model in the large Plastic Basketball Hoop / toy range. The base is filled with water or sand to ensure it doesn't tip over.
Unfortunately, spending $100 more doesn't solve the rust issue of cheaper products like the Pro Rebounder above.
The rim can bend, bolts will rust. In addition, this is quite a big piece of plastic sitting at the side of the pool. For obvious reasons this is for in-ground pools only.

Verdict: DO NOT BUY. Go for the Dunnrite Pool Sport instead.
Best FLOATING Pool Basketball Hoops 
If your wallet doesn't quite stretch to more permanent solutions or you know you only need a short-term set up to keep kids or visitors entertained have a look at the solutions below. These are great options for budding basketball players and can provide a lot of fun and game play.
Intex Floating Hoop

The Intex Floating Basketball Hoop in yellow and green is a great  little floater hoop and base! The inflatable beach ball LOOKS LIKE a basketball but is too small! So, forget the ball, use one or a few you probably have lying about anyway and have fun.
Being very lightweight, means even a little wind will push this easily to the side and corners of the pool but it doesn't tip over because the base can be filled with water. But that's ok as long as you don't expect more than an inflatable that can ALSO be used for basketball. Kids will very likely start with the ball game but soon find other uses for it: diving under it, turning it over to use as a chair, a raft…you get the picture.
Highly recommend as an inexpensive fun toy at this price (only $20 from Amazon – CLICK HERE).
SwimWays Hydro Spring Basketball
The Hydro Spring Basketball by SwimWays is very similar to the Intex toy, yet better in two ways. A layer of fabric provides more grip and protection and the ball has a textured feel and is easier to hold when wet.
The base has a plastic ring at the bottom preventing it from tipping over at the slightest wave.  Easy to set up and inflate.
Colonel Pickles Novelties Giant Pool Inflatable Basketball Toy Set 
The biggest and the only hoop toy we looked at that comes with TWO BALLS.
Let's repeat: this is big! It blows up large to a height of 45-inch tall by 36-inch wide. Get your motorized pump out if you have one.
Just under $40 it should last you at least a summer. The hoop doesn't tip over and the ports on the side allow younger players join in the fun. Different score numbers on above the port are a great feature to invent other games for older kids.
Made of strong vinyl it's also a great pool float and will withstand pretty rough play from older kids. It comes with two grippy water basketballs. Highly recommended. 7 years +.
CHECK OUT PRICE AND AVAILABILITY HERE.

MORE floating, inflatable water basketball hoops for the swimming pool here.
If you haven't quite found your perfect poolside basketball hoop here, have a look at our checklist to take with you to make sure you consider all important points before committing to buy.
And don't forget to have a look at these epic pool dunk videos here.
Feedback and Comments from our readers
We made sure we cover pool basketball hoops for different ages and requirements. Let us know if you have any more questions or recommendations. Thank you.