Buying a pool cleaner can be difficult. Should you stick with the manufacturer and model you know or is it worth upgrading to a completely different type?  
This article will help you with your choice by showing you the current best for each cleaner type and will also explain the difference between each type of pool cleaner, in case you are a new pool owner and "suction, pressure-side, robotic" doesn't mean anything just yet.
Below you'll find the best value for money pool cleaner for each cleaner type (suction, pressure and robotic) as well as the pool cleaner that offers the very best in terms of functionality but will be pricier.
We only recommend pool cleaners that have proven to be reliable over a longer period but will also point out any promising newcomers although only time will tell how reliable these are after a couple of years. 
★ Our top picks at a glance ★
Image
Product
Details

★ Top pick ★

Zodiac Baracuda G3 W03000

Quick & powerful. Works with low speed pumps
Avoids getting hung on lights,drains,fittings
Long-life design with one moving part

Check at Amazon

Hayward Poolvergneugen Automatic

2-wheel drive cleans pools up to 16' x 32'
Tire treads for enhanced climbing and obstacle management
Self-adjusting turbine works with any flow & large debris

Check at Amazon

PENTAIR Kreepy Krauly LL505G

Front-wheel drive for maximum traction on inclines
Four wheel design prevents tipping
Large intake throat and high-capacity bag handle large debris with ease

Check at Amazon

Polaris Vac-Sweep 280

Vacuums, sweeps, and scrubs the bottom and walls of any size or shape pool
Works in all in-ground pools; requires Polaris booster pump
Large capacity filter bag. Great performance!

Check at Amazon

Best buy robotic

Dolphin Nautilus Automatic

Plug & play - easy to use! Single button control
CleverClean Technology scans your pool and uses advanced algorithms for cleaning
Dual scrubbing brushes for 2x the cleaning. No booster required.

Check at Amazon

Dolphin Premier Robotic

Drop and go. Easy to use, single button plug and play
Comes standard with three filter options
Full filter indicator. 3 yr waranty

Check at Amazon
The best SUCTION SIDE automatic pool cleaners
BEST FOR THE MONEY: BARACUDA G3 W03000 Advanced
The Baracuda G3 is priced for lower budgets and yes, there are other cheaper cleaners. Here is why we chose the G3 as "Best for the money side suction cleaner in 2018". 
Cleaning 4/5: It cleans the usual range of pool linings in oval and rectangular shaped pools really well. Small and medium-sized debris is picked up reliably and better than what most pool owners can do with manual cleaners!
Not just the bottom of the pool but it goes over walls and climbs up to and cleans the waterline, too!

We would have given it 5/5 if it could clean leaves and larger bits like twigs, but it doesn't. You could get an inline leaf catcher, though, if your pool receives lots of plant material from nearby trees. Also, the G3 occasionally misses steps and some spots in more complicated pool shapes.
Versatility 5/5: It works well with any single, two-speed or variable-speed pump. You get great cleaning performance even with lower horsepower pumps thanks to the FlowKeeper Valve that automatically regulates water flow.
Reliability and lifespan 5/5: It hardly ever gets stuck, so does what it's supposed to do while in the pool. Parts are well made and durable. There are only a few moving parts and it's one of the cheapest pool cleaners to repair if you ever need to.

Pros and cons of the BARACUDA G3 W03000 Advanced :
+++ Good for small and medium debris

+++ Cleans pool floor, walls, and waterline

+++ Reliable and durable design

+++ Cheap to repair if need be

– Not good for complex, free-form pools

– Moves slow

– Doesn't clean steps

– Not suitable for pools close to trees
Check out the current price & see buyer reviews at Amazon.
BEST OVERALL: The Pool Cleaner by Hayward
'The Pool Cleaner' may not be the most imaginative of all names but this is still the best overall suction-side cleaner for in-ground concrete pools.   Apparently, Poolvergnuegen is German for Pool Pleasure. Here is why it has been so popular for years.
Cleaning 5/5: Where it goes there it cleans. Large leaves or fine sand. It could easily win the "Best side-suction pool cleaner for leaves" award because it can cope even with palm fronds without clogging up. It's suitable for all pool surfaces. Users have been very happy using the Pool Cleaner in their pebble tec pool. 

Reliability and Lifespan 5/5: Clean straightforward engineering keep this guy running and running for years. If we could we'd give it 6/5. The gears inside are very durable and it keeps moving like a tank over uneven surfaces.
Thanks to its big wheels it doesn't get stuck on usual trappings like main drains. Parts that might need replacing due to normal wear and tear like the wheel treads are easily available. Warranty is a respectable 2 years.
Versatility 5/5: Cleverly engineered, multiple pre-programmed internal steering sequences move the Pool Cleaner over the whole pool including walls easily. It does so on gunite, vinyl, fiberglass, pebble-tec as well as tiled surfaces.
Very clever: a self-adjusting turbine maintains maximum suction power regardless of the suction power it receives from the main pump. The result is great cleaning power even with pumps as low as ½ hp. It works brilliantly with variable speed pumps, too.
Check out the current price & see buyer reviews at Amazon.
The best PRESSURE SIDE inground pool cleaner
BEST FOR THE MONEY: Pentair LL505G Kreepy Krauly Legend
Cleaning 5/5: The 4 wheel design of the Legend is unstoppable. It moves around without ever losing its balance and cleans reliably the whole pool with great power. Thanks to the large intake opening it will pick up large debris very well.
It will also climb and clean walls as long as there are rounded edges from floor to wall. The collection bag is spacious extends the time between cleaning. It easily clips on and off for emptying. There's a sand/silt bag to pick up finer debris.
Reliability and Lifespan 5/5: The Legend is designed to run and run and run. And it does. As with all moving parts there will be wear and after about 3 years some parts like the wheels or their bearings might need replacing.
Versatility 5/5: The Kreepy Krauly Legend works on any inground pool lining including vinyl, gunite, tiled or fibreglass. The front wheels are powered and allow the cleaner to move up on inclined surfaces with ease
Head over now and find out why it's one of the best you can buy at Amazon.
BEST OVERALL: Polaris Vac-Sweep 280 and 380
A reliable workhorse with many happy customers.
Cleaning 5/5: Both, the 280 and the 380 clean well where they go, namely the whole bottom of the pool and the sides to the waterline, but not necessarily the steps. The Vac-Sweep 380 does so a little quicker due to its more responsive drive and longer sweep tail which allows it to sweep a wider area in one go.
Reliability and Lifespan 5/5: for 280, 4/5 for the 380: Polaris pool cleaners have built a reputation for durability and longevity. That is not to say that it doesn't have any wear and tear if used almost continuously. The belt of the 380 tends to wear out after about 18 months.
Versatility 5/5: Both cleaners are suitable for all the usual pool surfaces and will take care of pool floors and sides. There is a reliable back-up valve to prevent the cleaner from getting trapped and maneuver out of problematic areas.
Take a moment and check out the amazing buyer reviews and current low price at Amazon.
The best ROBOTIC pool cleaners
BEST FOR THE MONEY: Dolphin Nautilus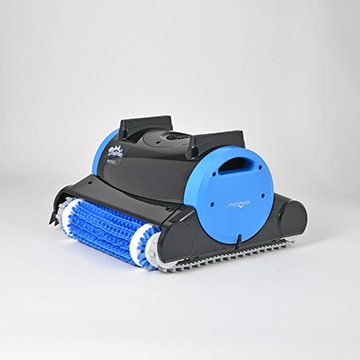 The Dolphin Nautilus by Maytronics made has become a well-deserved Bestseller on Amazon thanks to its great performance for just under $650.
Cleaning 4/5: Overall the Nautilus offers amazing cleaning value for the money (under $650 or so).
It's a huge time saver when you switch from manual, pressure side or suction cleaner because you don't have to drag out lots of stuff to clean and don't have to backwash the pool filter. The robot is a vacuum cleaner and doesn't scrub.
Two types of onboard filters easily trap small leaves, bugs and dirt, including sand and algae but a bit of manual scrubbing, might be required for tough spots. The spring filter is perfect when opening the pool. The cleaner won't be able to clean up larger leaves and debris, though.
The Nautilus cleans the bottom of the pool very well but doesn't always reach all of the walls and steps.
Reliability and Lifespan 5/5:  This pool cleaner works well straight out of the box, no setting up or adjusting needed. The sturdy design will last for years to come. The warranty is 12 months from Maytronics.
Versatility 5/5: The Dolphin Nautilus moves around in a random pattern cleaning the whole pool floor area and can, therefore, clean any pool shape: rectangular or curvy free-form. It will not remember the pool shape, though and might miss a spot here or there.
You'll need a higher-priced robotic pool cleaner if you want to go for perfection. Because it's a vacuum it is equally suitable for all pool linings. The Nautilus can be used in chlorinated as well as saltwater pools. You can read my review of the Dolphin Nautilus here.
Head over now and check the buyer reviews and current deal you'll get at Amazon.
BEST OVERALL: Dolphin Premier
Most people get curious when they see a price tag of over a grand for a pool cleaner. However, there are many good reasons why this one has been steadily collecting 5 star reviews on Amazon since its newly packaged launch in 2018.
Cleaning 5/5: The Premier is able to clean EVERYTHING in your pool, from large palm fronds to microscopic particles. It scrubs and climbs walls and steps, coves and corners with its high-speed spinning brushes and easily removes difficult colonies of bacteria, algae, and biofilm.
It calculates the best path to do its job in the most efficient way and stops when its done. 
Reliability and Lifespan 5/5: It's one thing to know that the robot works well right out of the box. However, in case you wonder whether you should wait for another couple of years before buying you'll be pleased to know that this robot comes with an impressive, no-nonsense 3 year limited warranty – the best warranty for this kind of cleaner.  
Versatility 5/5: Out of the box the Dolphin Premier can be used for practically all kinds of pool linings and shapes without the need for extra brushes: gunite, concrete, tile, fiberglass or vinyl-lined and any shape under 55 feet long.
On its cleaning journey, it will cover every inch of pool surface, including the waterline and tricky areas like steps and corners. You decide what kind of cleaning you need most and choose any of the 4 types of filters for the job. 
Don't miss this one! Head over now to see the current price and reviews at Amazon.
How to choose a pool cleaner to fit your maintenance routine
Installing a proper pool will cost you at least $10,000 and considerably more for an inground pool unless you are rich in time and/ or friends to help you with an alternative DIY swimming pool.  (Good for you if it already came with the house.)  

Not maintaining the pool properly will quickly show: the water quality goes visibly down and debris and algae cover the pool surfaces. Not only does the whole place turn into an eyesore it can also have expensive consequences for your pump and filters.
A pool maintenance routine with the right tools will ensure a high quality of water and a long repair-free lifespan. 
Why do you need a pool cleaner?
At its basic, a good pool maintenance regime will take care of two things: High quality of water by maintaining chlorine levels and keeping the upper hand in the constant battle against algae, debris, and grime.  removing any debris from the pool.

In addition to keeping the pool clean and clear, it's worth looking at potential energy savings by keeping the pump times low and main filters clean enough so they can do a good job.

A good pool cleaner is an essential part of pool maintenance as it effectively takes care of two major pool elements: the pool water itself and pool surfaces.

The best automatic pressure, robotic and solar pool cleaners will also ease the burden on the existing pool filter because they work independently from the main existing filtration system and remove debris before it even reaches the existing filter. They should also remove debris from areas that wouldn't get cleaned otherwise like corners, steps, the waterline, and walls.

And all of that while you just watch or do the stuff you really want to do.
The different types of pool cleaners & how they work
There is no getting around it, a pool cleaner is a must-have item for every pool owner. Over time different types of pool cleaners emerged and it can be confusing to decide whether a manual, automatic, robotic or solar pool cleaner is the best choice for you.

Every pool cleaner works by drawing in pool water which is then filtered to remove dirt and debris. Different types of cleaners vary in how they draw in pool water, where they filter the water, how the cleaner moves around the pool and how much of the whole process is manual or automated.
Watch the 3 min video below for an overview of how each type of pool cleaner works:
The type and quality of pool cleaner makes a huge difference in how much time and effort it takes to keep the pool clean.
On one end of the spectrum, there are simple, yet time-consuming manual systems. On the other end are fully automatic, self-contained devices and systems that clean on their own with very little if any work left to do for the owner.

Choosing the right kind depends not just on the pool itself but also the user's preferences and budget.
Manual Pool Cleaners
These are often simply called pool vacuum which can be confusing because suction-side cleaners are also often simply referred to as a pool vacuum. So, to be precise it's best to say 'manual pool cleaner' or 'manual pool vacuum'. These consist of 3 to 4 main parts:
Vacuum head or vac head to move over the pool liner
Vacuum hose to draw water through to the pool skimmer and filter
Telescopic pole to guide the vac head manually
A complete manual cleaner set will cost anything between $80 to $150 making this the cheapest pool cleaner option.  A manual pool vac might be all you need if your pool isn't too big or if there are a few areas an automatic pool cleaner doesn't reach.
Another bonus is that these are equally suitable for above and in-ground pools.
However, connecting everything ready to clean and going over the whole pool does take time. Also, debris will end up in the main pool filter which will eventually need cleaning as well.

Using a manual pool cleaner only is a time-consuming way to clean the pool and quickly becomes a dreaded chore, especially in summer. It's at this point when many pool owners start looking for an alternative and consider buying an automatic cleaner.
SUMMARY: Manual pool cleaners are the cheapest option in pool cleaners, easy to set up by connecting it to the suction outlet. It requires a lot of elbow grease but you are in full control where you clean.
Debris lands in the main pool filter and will eventually (sooner rather than later) have to be removed.  
Suction-side Automatic
Suction-side cleaners are one step up from a manual cleaner. They are still fairly simple devices with only a few moving parts. That's good news in terms of lifespan and maintenance costs.

Suction-side pool vacs also connect to the intake (suction) line via the skimmer or an existing dedicated suction line where water is pumped out of the pool into the filtration system. Unlike a manual cleaner, a suction side vacuum moves on its own and doesn't need to be guided by a person, hence "automatic side suction cleaner".

A closer look reveals two sub-types of suction pool cleaners. Zodiac and Kreepy Krauly offer so-called inertia-driven devices that move about in a random pattern, taking their time to cover the whole pool.

The second kind works more methodically as they follow a programmed pattern to cover the whole pool surface. Examples include the Pentair Rebel.  

As long as the side suction vacuum is connected and your pump running it will be on cleaning duty, no timer required. With the pump running, a suction is created on the underside of the cleaner head sending debris through the hose to the strainer basket and finer particles to the filter.
The disadvantage of suction cleaners is their dependency on the flow rate of the pool plumbing.
Preferably there will be a strainer basket somewhere along the hose preventing clogging up of the pump strainer basket too quickly.
The flow rate needs to be carefully adjusted for the cleaner to work well. Even then, their cleaning power is usually more suitable for smaller debris like sand. But there are exceptions like the Great White by Pentair which can also deal with larger bits like acorns and leaves making this type of cleaner a good choice at an affordable price.
Summary: Not too expensive, easy to install and maintain. The biggest disadvantage is that it adds to your energy bill because they only work with your existing pool filtration system.
They're not as powerful as pressure or robotic cleaners and you will still have to clean your pool filter frequently as this is where debris is drawn to.
Pressure Side Automatic
Unlike suction cleaners, these attach to the return (not suction) side of the pool plumbing. This pressure propels the cleaner around the pool.

There are so-called low-pressure cleaners that are powered by the pool pump and the second type which needs to have a booster pump. This latter makes it a pricier option from the start but it also ensures constant pressure and cleaning power.
Pressure side cleaners collect debris right into a bag attached to the cleaner. This bag has to be emptied when it's full – usually much easier done than having to clean the main pump filter.  
Entry models start at around $200. Stronger and more durable pressure cleaners that attach to a booster pump can be up to $800.
Robotic
Yes, they are the most expensive option. But it's such a relief to let a machine do a chore for you. They are indeed designed to make your life as a pool owner A LOT easier. Here is how. 
One of the biggest advantages is that they work independently from the existing pool plumbing which means they can run even when the pools own water circulation pump is switched off. 

Robotic pool cleaners are either battery-powered or plug into a power line. This means there needs to be a power socket near the pool.
Another advantage of robotic pool cleaners is that they can freely move about the whole pool and reach difficult areas more easily, even climb walls and steps which means they can work in almost any pool.

There are several models that even calculate an optimized cleaning path according to the shape of the pool.  

Robotic pool cleaners usually carry a filter pump,  a drive train for mobility and debris filters or bag all on-board. They should require little input from the owner aside from lifting in and out of the pool and cleaning the filters.
Some of them can be programmed to clean a pool within a certain time limit. A few models even have a remote control to help it reaching spots it might have missed.

You might have spotted entry models at about $300 but overall advanced and sophisticated technology like strong suction power, amazing cleaning and filter functionality, the ability to calculate the best cleaning path, etc, all of that comes at a much higher price point, typically at least $500 and you can easily spend even $1000 for a machine with all bells and whistles.  

The best robots will allow the owner to greatly reduce the run time of the main pool circulation system. The main skimmer and filter will need to be cleaned less frequently, too.

Summary: Robotic Pool Cleaners are one of the best options for laid-back, high-standard pool maintenance and care. The right model will not just remove debris from the pool but also filter the water on the spot.
The savings in energy through less main pump time and perhaps getting rid of your pool service make this a worthwhile option despite the higher price tag.
Solar-Powered
Who wouldn't like to save energy AND work at the same time?

Solar-powered pool cleaners may not yet be as widespread as other types of pool cleaners but there are now some units that are well worth considering as additional silent little helpers with a huge impact on the time you need to spend on cleaning.
Some models like the Solar Breeze NX skimmer have earned great buyer reviews because of their ability to quietly and continuously gather surface debris like leaves and bugs.

This means huge energy savings because the main pump has to run much, much less. However, solar-powered cleaners can only skim the surface water and will not clean the bottom or sides of a pool. In other words, there's a need for an additional cleaning device for those areas.  

However, a device that removes automatically the bulk of debris before it even reaches the pool floor or skimmer basket without extra energy input justifies the price tag.    
I know it can be overwhelming to decide what pool cleaner to go for when there is such a wide choice. However, if you have the right information about your pool and situation ready you will be able to narrow down your choice considerably.
What information do you need to buy a pool cleaner?
The size and depth of your pool

The type of your pool lining: vinyl, pebbletec, fiberglass, or gunite to name but a few

Do you have a booster pump?

The type of debris you tend to have most: is your area prone to sandstorms, are there trees close by?
It would also be wise to take your experience into account. What did you love/ hate about the old device?
Armed with this information you can now jump right in and find the best one from my list of recommended cleaners.