Pool cleaning equipment each pool owner must have
Pool cleaning equipment – list of necessary items any home with a swimming pool should have
[toc heading_levels="2,3″]
In summers, a pool is a luxurious place where you'll share memorable moments with your family and friends. For long-term convenience and pleasure, swimming pool maintenance is an unavoidable part of everyday routine.
If you lack proper pool cleaning equipment, your pool will become ugly and unhealthy.
The possible causes of pool spoilage are:
algae
natural waist (dust, leaves, hair)
too much chlorine in the water
clogged pool filter
scaling
poor circulation, etc.
Maintaining a pool was difficult, but the latest advancements in pool cleaning equipment make it easy now.
There are numerous tools and gadgets available in the market. You can almost effortlessly keep your pool running smoothly and add an alluring look to your home.
This article will review the most popular and mandatory pool cleaning equipment you will need to make your pool perfect.
10 Items List for Pool Cleaning Equipment
1 Automatic pool cleaning equipment
The first item on our Pool Cleaning Equipment List is (for a good reason) an automatic (robotic) pool cleaner. There are two types: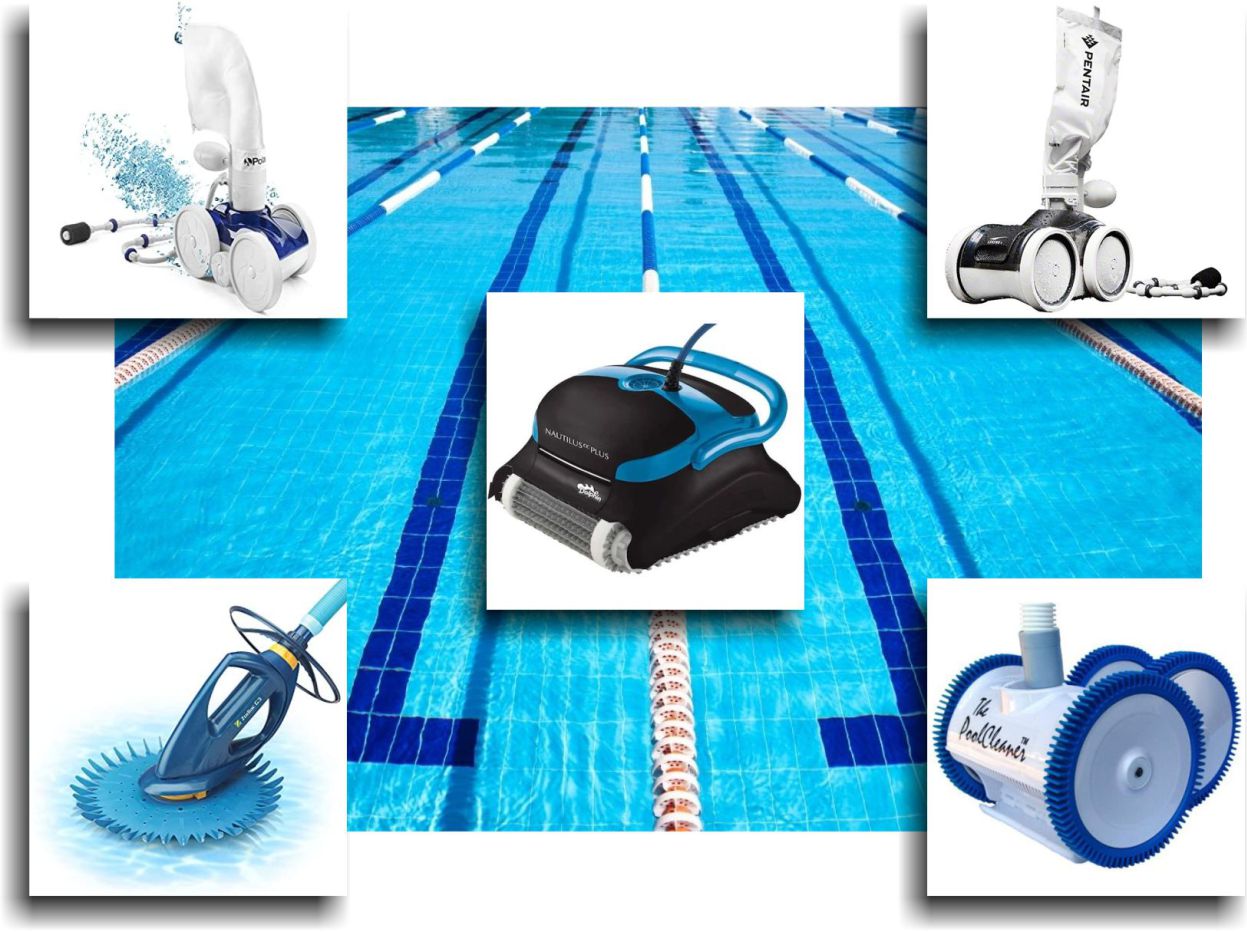 Automatic Pool Cleaners help you to clean your pool efficiently with a little effort on your part. These are the best option for anyone looking for a cost-effective, easy solution to keep their pool beautiful, healthy, and ready for swimming.
The automatic pool cleaners keep your pool clear as crystal without the need for little effort on your part. However, they are different types, and choosing the right type according to your pool conditions is challenging. 
Suction Side Pool Cleaners
Suction Side pool cleaners are vacuum cleaners that work on the suction power of the primary pool pump.
In the suction mechanism, you connect the cleaner with a dedicated suction line or straight with your pool's skimmer. It utilizes the suction generated by the pump to move around the pool.
This way, it catches debris. It works on a throat mechanism that enables it to capture sand, dirt, and other debris. The throat is a round hole of a specific size that could block when larger debris is stuck in it.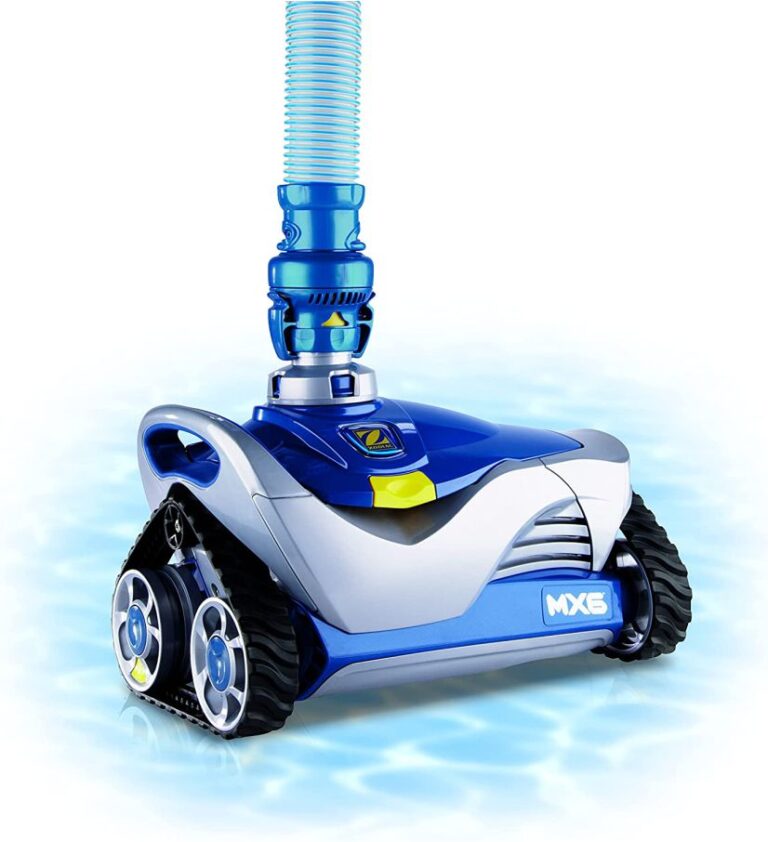 As the suction side cleaners run on the power of your pool pump, they have a few moving parts and do not contains any electronics. This makes them easy to repair and lowers the chances of breaking down.
If you need a firm cleaner that has a solid construction, a suction cleaner might be the best option for you.
This also significantly reduces the electricity cost because you do not have to use a booster pump. Moreover, the installation is relatively easy and usually takes a few minutes.
The suction side cleaners are generally utilized to pick small objects like leaves and insects. However, most suction cleaners are good enough to suck the debris, which causes cloudy water.
Pros:
They have the lower cost
Fewer moving parts reduce energy consumption
The sleek and straightforward construction enables easy maintenance
Good to pick finer dirt and efficiently reach the congested areas
Cons:
As a suction side cleaner runs on the power of your pump, it draws 75% power of the pump, so if you don't have a powerful pump, don't waste your money buying it.
It relies on your pool's filtration system and increases a load of dirt and debris on the filter, thereby increasing the pressure, requiring frequent washing and back cleaning.
The pump must be running to get the output of the cleaner consistent.
Clean pool robots
Robotic Cleaners are far most advanced than suction or pressure side cleaners. They use their electronic brain and state-of-the-art calculations to delineate a super-product cleaning path around your pool.
At first sight, it seems like they are the most expensive equipment for cleaning your pool.
However, the robotic cleaner is the most cost-effective option compared to buying a booster pump for a pressure cleaner and a leaf canister for a suction cleaner.
A robotic cleaner contains a motor to move at the bottom of the pool from where it sucks the dirt and other debris to clean the pool and tidy it thoroughly.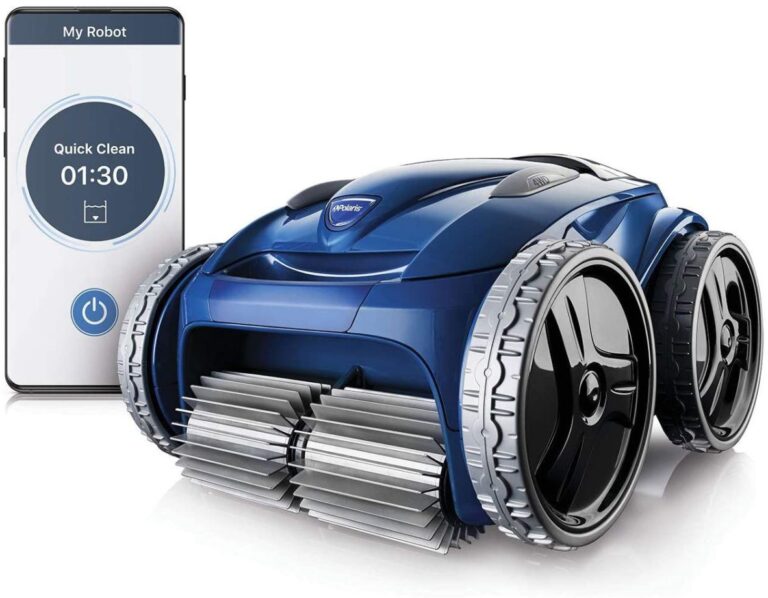 Pros:
A robotic pool cleaner has embedded brushes and performs the cleaning independently without sharing the suction and pressure from the pool's equipment.
These cleaners auto-adjust them to clean the floor and the walls
They usually have an extended warranty which is a positive thing when you invest a lot of money
They consume less electricity, that is why they are also eco-friendly
They work fast as compared to other types of automatic cleaners. Typically, they take 2.5 hours to finish cleaning the entire pool
Plug and play supported operation
They have an embedded filtration system to provide efficient cleaning
They have some advanced features like timers, path selection, etc.
The latest models are compatible with operating with blue tooth
Cons:
A robotic cleaner has more complex construction than the other ones, so there is a greater possibility of their out functioning and repairing costs may be high
Although they perform well, they cannot capture the floating debris on the surface
They usually have a smaller debris capacity, that is why the filter frequently needs to be replaced
2 Brush Attachments for Cleaning of Swimming Pools
Pool brushing is crucial in maintaining a beautiful, healthy pool. It also prevents staining and the growth of algae.
Many do not clean their pools because it is exhausting and time-consuming. Also, because we do not see any difference upon brushing, that discourages us from regularity.
Pool cleaning works like teeth hygiene. It prevents problems from arising. Similarly, brushing your pool once a week is very important to the pool's safety and the swimmers' health.
After summer rain and showers, there are more chances of algae building up in the pool. Rainwater washes organic particles from the trees, which then mix with pool water and accumulate on the pool's steps, walls, and the floor surface. This organic matter forms a layer of algae food. To prevent algae from feeding, brush the pool to remove the organic matter.
The following are some benefits that you will get upon cleaning the pool with a suitable brush attachment:
Pool surfaces will be tidy and clean
Prevents the growth of algae on pool surfaces
Lifts the dust particles in the water and prevents them from settling down
Prevents staining and provides a long-lasting effect
There are two types of pool brush attachments available online that you can buy to clean your pool:
Nylon Bristled Brush
The nylon bristled brushes are lightweight and used for daily cleaning and brushing. The bristles made of nylon are soft enough to prevent the pool surface from scratching and hard enough to clean the pool daily.
Steel Bristled Brush
The steel bristled brushes are used to remove the most resistant stains like that of algae and mineral deposition. These types of brushes are very abrasive and hard to move on the pool surface. They should only be used on the stained areas of the pool to prevent the surface from damaging.
Moreover, if you have fiberglass or vinyl pools, you should never use these brushes because they can damage the pool's surface.
3 Chemicals for Clean Swimming Pools
The fourth item on our pool cleaning equipment list is chemicals.
To keep your pool water crystal clear suitable chemicals must be administered. Chemical induction is also essential for the health and safety of swimmers.
As other pool cleaning equipment, a diverse range of chemicals is used to fortify your pool. These include:
chlorine to disinfect pool water,
algaecides,
water balancers,
pool clarifiers,
pool cleaning chemicals, etc.
A perfect combination of pool chemicals allows us to enjoy ideal water to swim in during warm summer days.
Pool chemicals like bromine and chlorine efficiently kill microbes in the water. Bacteria and other germs are hazardous to the skin and may be a health risk. Pool filters remove dirt and other debris, but microbes can only be killed with the help of chemicals.
The same type of chemicals should be used whether you have an in-ground or above-ground pool.
However, every pool is unique due to the area, people who use it, and surrounding vegetation. Adding extra chemicals can be harmful and irritating to the skin and eyes.
A suitable amount of chemicals should be applied in pools, and the pH balance must be maintained. It is also crucial to test the pool's pH before introducing chemicals.
4 Filters for clean swimming pools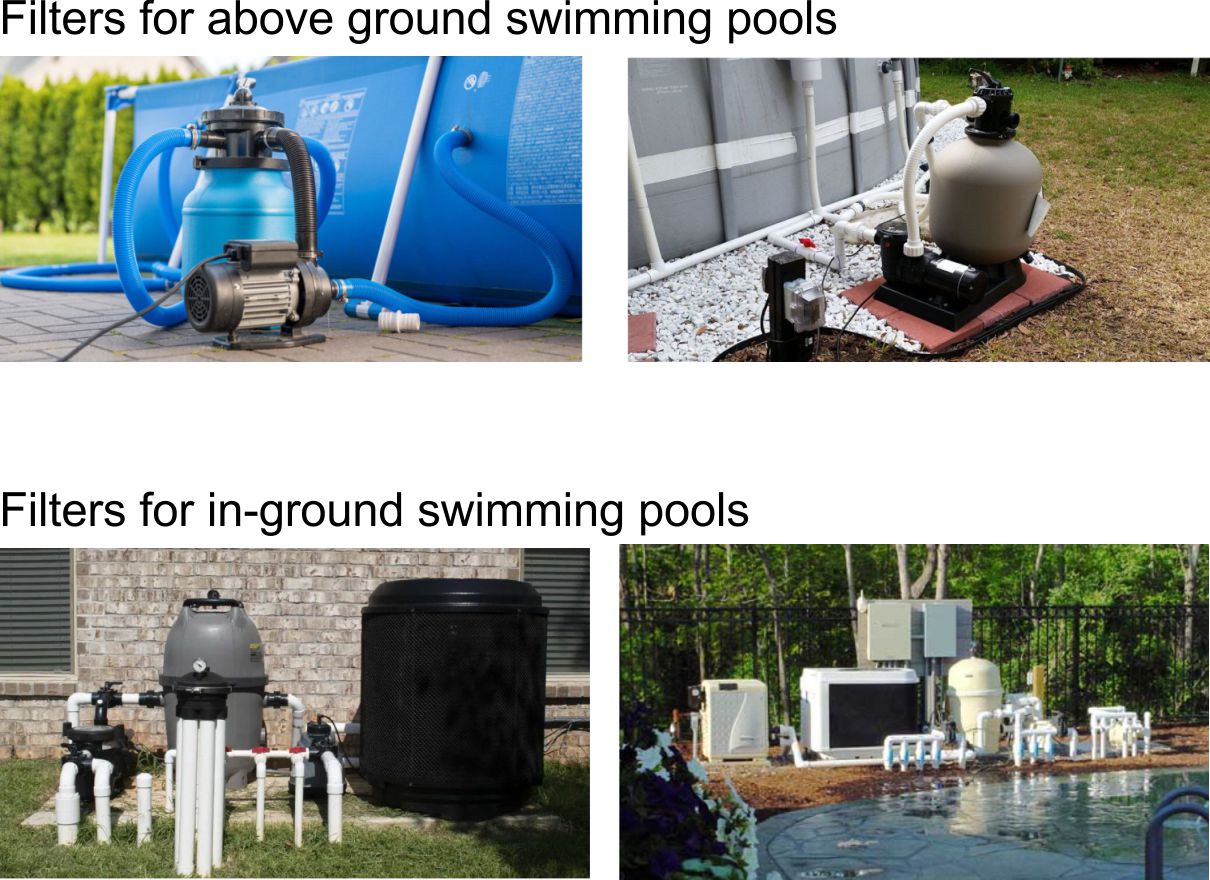 Pool filters are next on the list of pool cleaning equipment. Their purpose is to maintain your pool water crystal clear. There are different types of filters on the market.
Swimming pool filters efficiently pick all types of dirt and debris, either visible or invisible, from your pool that can result in cloudy water in the pool. Filters are must-have equipment to keep your pool healthy and tidy.
Numerous types of pool filters are available online for in-ground and above-ground pools. Intex, Pentair, and Jandy are the most popular brands that manufacture pool filters. They manufacture
high-quality cartridge filters,
pool sand filters, and
DE pool filters,
which are suitable for a wide range of pool sizes.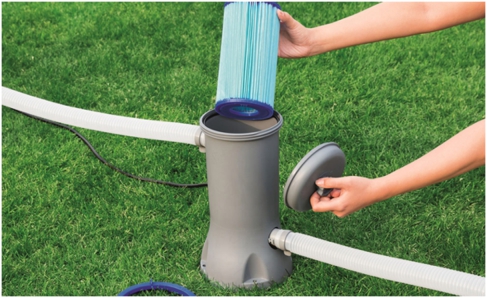 In-Ground Pool Filters
Generally, the in-ground pool filters are much larger to enable a heavy water flow over 150 GPM. These pool filters are designed to control the large pool volumes and can process over 10,000 gallons of pool water per hour.

You should choose an in-ground pool filter size that can filter the entire pool water within 6 to 8 hours. A large pool filter is also important because it requires less maintenance and has longer filter cycles.
Above-Ground Pool Filters
On the other hand, the above-ground filters are just the smaller variants of in-ground pool filters and function the same.
They vary in size from over 3000 gallons to 20000 gallons, which means there is a large variety of size options available to match any size of the above-the-ground pool.
Above-the-ground filter systems consist of
a pool filter and a
pool pump
with a filter system base attached.
However, you can also separately buy the pump and the filter.
Multiport Valves
Multiport valves reverse the flow of water when the pool is equipped with DE and Sand's filters.
In this 2-minute video, you can see How does my multiport valve work?
A filter backwash valve discharges the filthy backwash water out of the waste port of the pool. The top-mounted sand filters come embedded with the valve, while the side-mounted sand and DE filter multiport valves can be purchased separately.
Pool Filter Cartridges
The pool filter cartridges are the pleated sort of cartridges that are used in cartridge pool filters. They can usually withstand one season on tiny filters and up to five years on large filters specifically made for in-ground pools.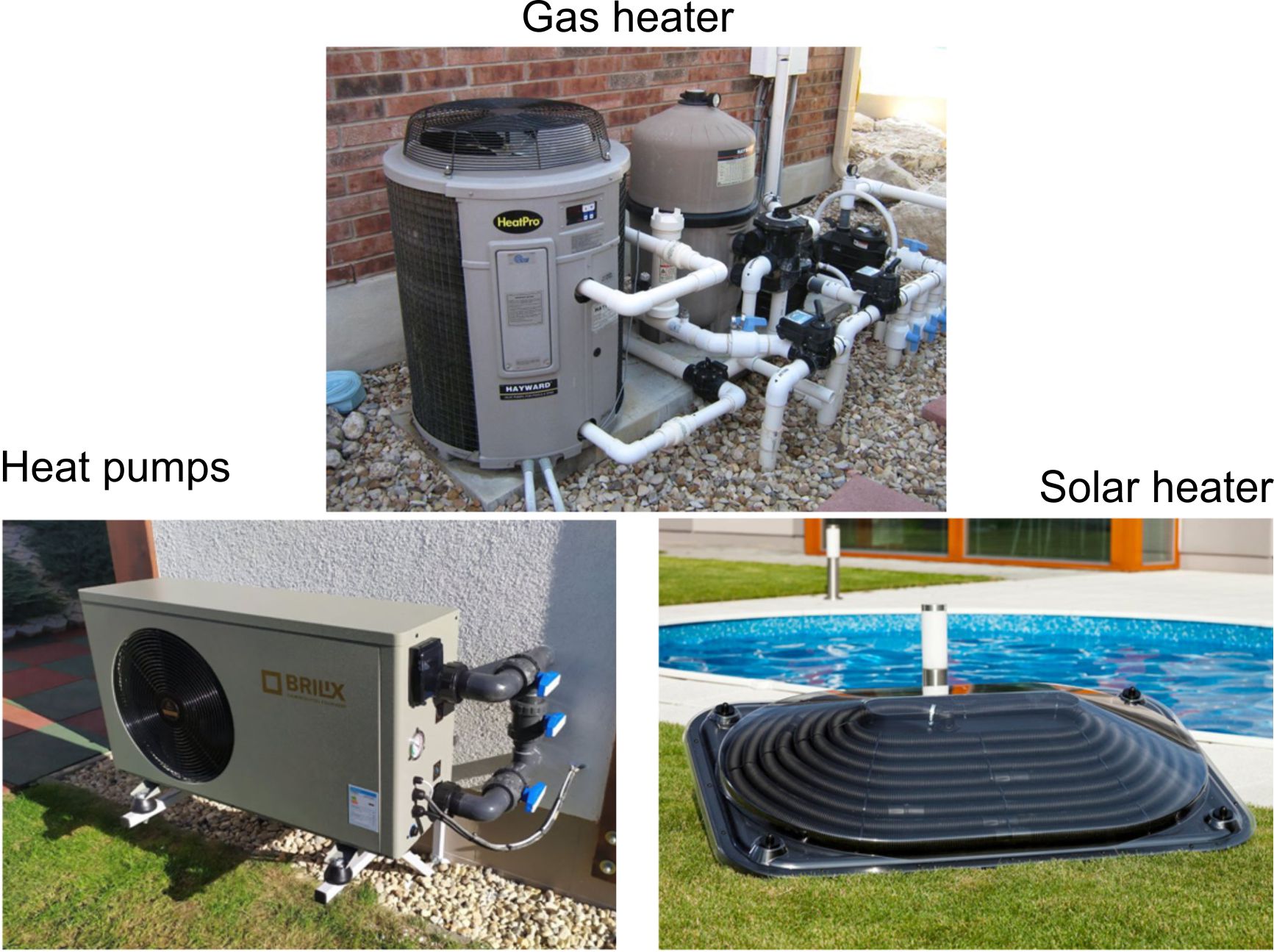 Heaters are not exactly part of swimming pool cleaning equipment, but they are a mandatory item on the list.
No matter how cold the weather is, you can still enjoy swimming and playing in your pool with the help of pool heaters. Imagine how relaxing it would be if you come home tired on a cold evening and dive into a warm pool. All your tiredness will go away.
Diving in warm water is not only refreshing, but it also has a positive effect on your blood circulation.
There are 3 types of pool heaters available depending on the type and size of the pool you possess.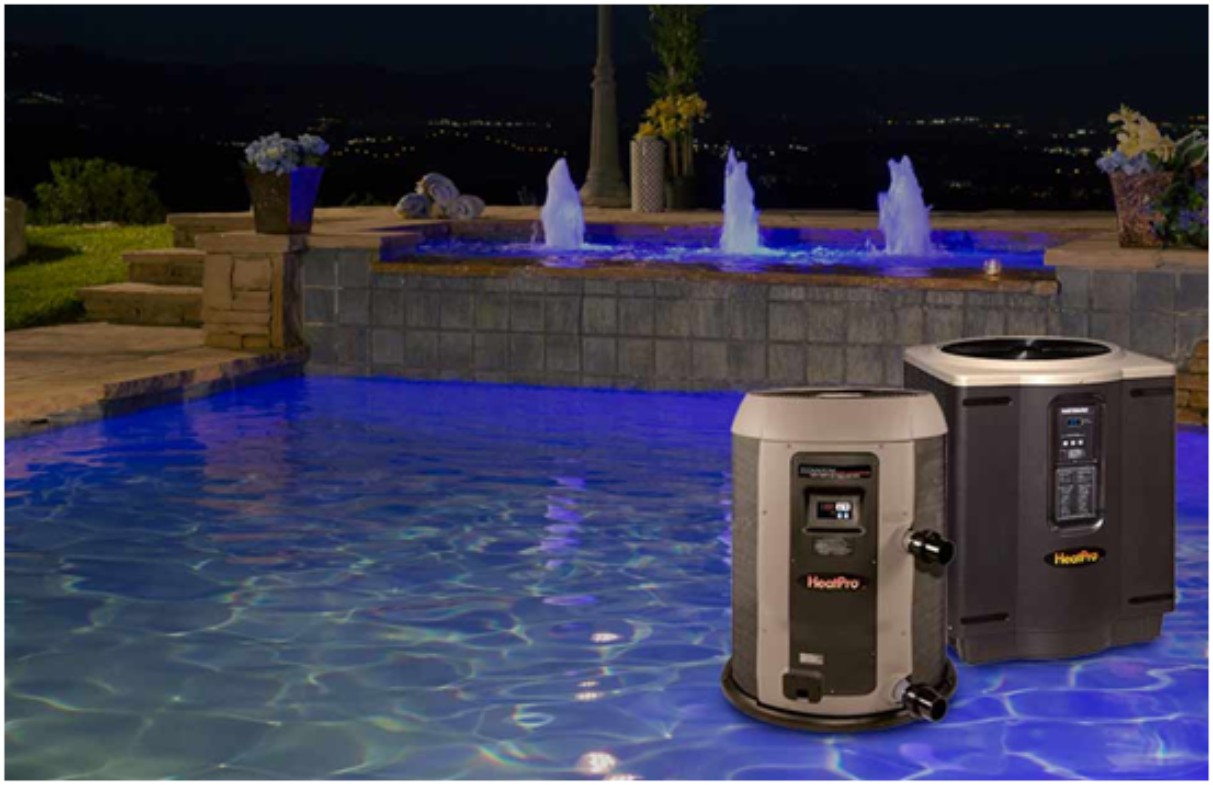 Gas pool heaters
Over time, the gas pool heaters are much improved, saving your cost and energy. The maximum number of natural gas heaters doesn't have a pilot function. Instead, they have an electronic ignition system.
The combustion is fortified with fans assembled on them, which provide the necessary oxygen for combustion and has attained the status of low-NOx burners.
Gas pool heaters can be installed with ASME certification for the larger public pools. Some more advanced pool heaters are available, like the Raypak digital natural gas heater with an LCD and high-tech components, making it a favorite for the customers.
To prevent corrosion in salt water pools, some propane pool heaters are made of cupro-nickel alloy, which is highly resistant to rust.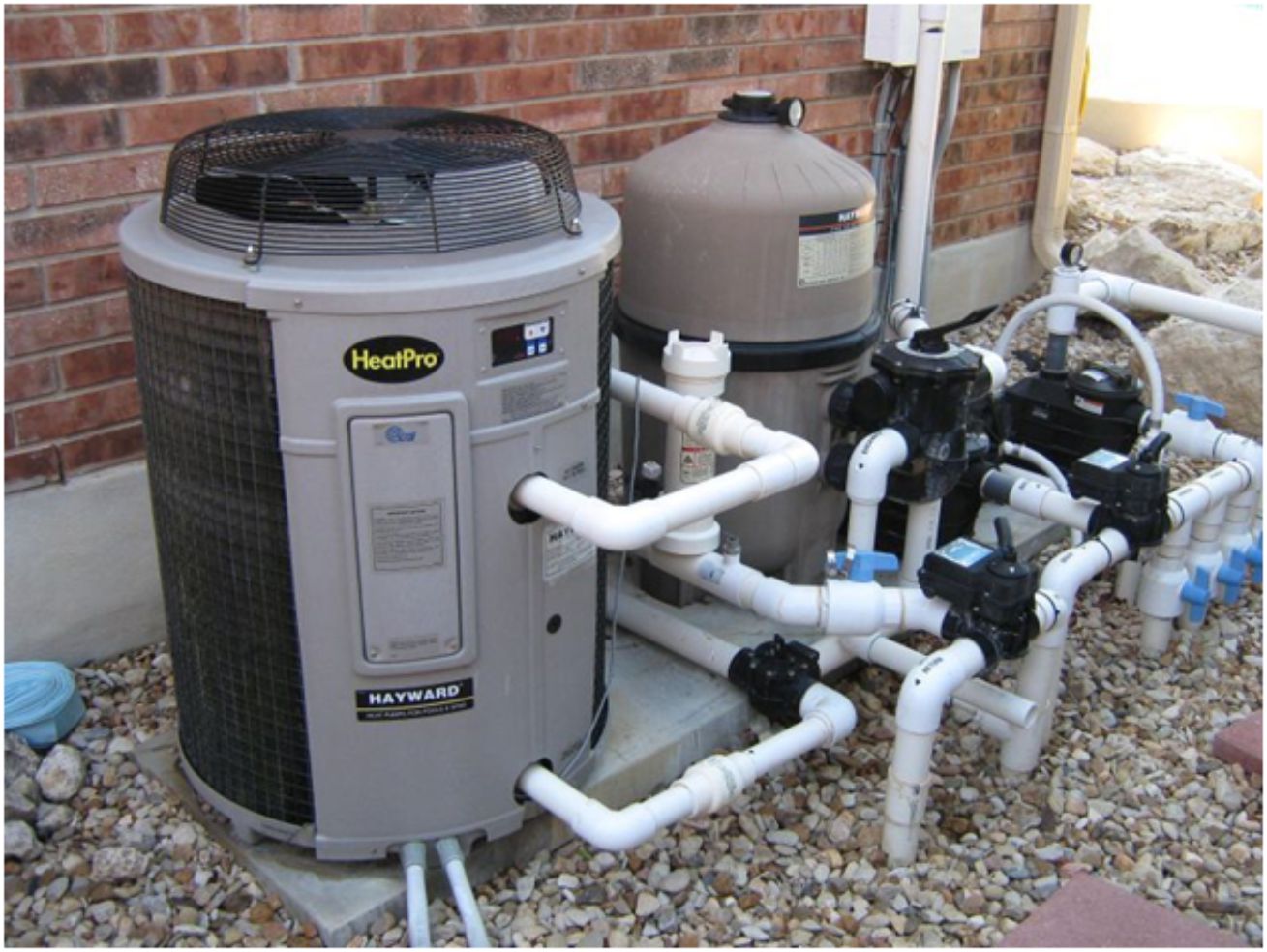 Pros:
They quickly heat the water
They have a lesser initial cost and are available in a wide range of sizes
Cons:
They have high monthly fees to operate
They have a smaller life span, usually five years, and eventually need to be repaired
They are not environment friendly and cause air pollution
Pool heat pumps
If your pool doesn't have access to natural gas or you live in an area with poor or no natural gas supply, like on the hillside. You can warm your pool with the help of pool heat pumps.
They get propelled by the electric power to absorb the heat of the surroundings and then transfer it to the water in your pool. The modern heat pumps have cutting-edge compressors to efficiently blow heat into the water.
Moreover, they have a titanium heat exchanger to enhance performance and protect the environment.
Pros:
They have lesser initial cost as compared to the solar and gas heaters
Unlike solar heaters, they can be used at any time
They are versatile and can also cool the pool water on the hot summer days
Cons:
They consume electricity and raise your billings
It takes longer to heat the pool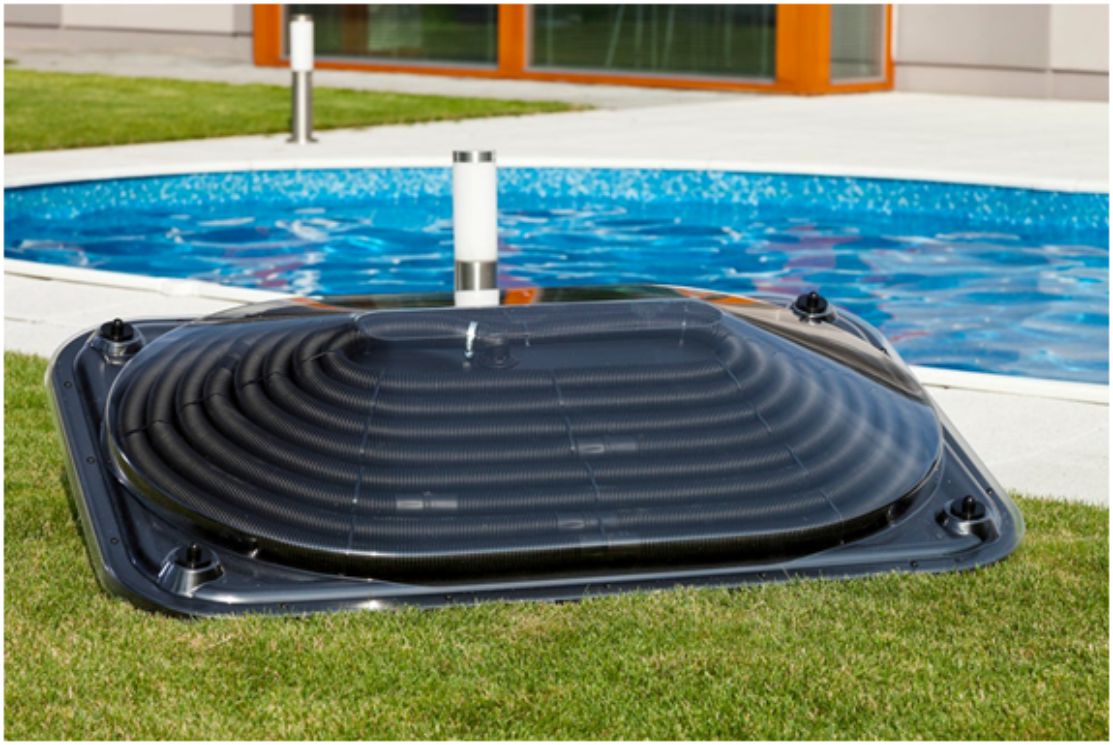 Solar pool heaters could be the most economical option to heat your pool because they significantly reduce the cost of heating. They have competitive costs with the pool heat pumps and gas heaters. Also they have very minimum operating costs and require little or no maintenance at all. 
Pros:
Solar energy is free; the renewable solar energy from the sun heats your pool
Very little operating cost
They have a longer life span and usually come with up to 12 year's warranty
They do not produce any air pollution, which makes them environment friendly
Cons:
As they operate with the sun, there is less heating in the evening and the morning hours or when the weather is cloudy
They have a very high initial cost, which ranges from $3,500 to $7,000
They take a longer time to heat up the pool
A pool pump is a significant part of adequately functioning the pool and the spa filtration system. The pump regulates the pool or spa water. It pushes it towards the filter, chemical feeder, heater, or the water chlorination system.
After processing the water, the pump pushes it back into the pool or spa through the return ducts.
Moving water lowers the stain and algae built up in the pool.
The pool pumps differ based on speed. There are:
single speed pumps,
dual speed pumps
variable speed pool pumps
If you want to change an existing pump or install a new one, then it's essential to consider these pump speed options for your pool's well-being.
Single Speed Pumps
Single-speed pool pumps can run at an RPM of 3450 rounds. This depicts that they can run at one continuous extreme speed the entire time they work.
The single-speed pump motors are equipped with hand-made magnets that gradually lose their polarity over time—the loss in polarity results in consuming more amperes and will cost you more electricity.
Dual Speed Pumps
The Dual speed pool pumps can run at two separate RPMs. The high-speed RPM is 3450 rounds, and the low speed is half of this, that is 1725 rounds.
You could benefit more if you run the motor at a lower RPM because it less consumes the amperes per hour, lowering your electricity bill. Using the low RPM also enables you to run the pool and spa pump for an extended period.
However, the dual-speed motors also contain manufactured magnet that gradually reduces their polarity, which in turn consumes more amperes, and the electric billing cost increases.
Variable Speed Pumps
The variable speed pumps can run at a variable RPM ranging from 450 RPM for the lowest speed to 3450 RPM for the highest speed setting.
Variable speed pool pumps can deliver efficient water circulation for a diverse range of pool volumes. In these speed pump motors, rare earth magnets are used instead of artificial magnets, which means the polarity does not reduce with time.
You can tune these pumps with the desired RPM and run the schedule according to your demand for proper water circulation.
Your pool will look nasty and untidy if debris like leaves, hairs, sunscreen, etc., remains floating on the surface. Pool skimmers are the necessary part of pool cleaning equipment that,  installed in your pool, will help it to be clean and healthy.
The pool skimmers are the rectangular devices located on the side or walls of an in-ground pool. These are also called built-in skimmers.
Nowadays, the more modern robotic skimmers are also available, which float on the pool surface and efficiently clean the debris from the surface. Depending upon size dimensions, you shoul have one or more skimmers installed on your pool.  
Generally, pool skimmers are found in every pool. They are designed to suck water from the surface and allow it to pass through the pool's filtration system. When at least 1/8 inch of water enters the skimmer, it is forwarded to the filter. Swimmers don't notice its suction power because it's' so minute.
If there are no skimmers in the pool, debris and other contaminants will remain in it. That will result in algae formation and a cloudy pool.
Moreover, your pool pump will be subject to more wear and tear and must be replaced before the recommended date. The pool pump is costly pool cleaning equipment, so it's essential to care for it by indirectly maintaining your pool skimmers.
Pools skimmers are available in varying sizes. They also differ in output quantity. Regardless of the brand you choose for your pool, all skimmers have the following parts or attachments:
Skim Vac Plates
The skimmer vacuum plates vacuum the water in your pool into the skimmer basket. This accessory is essential for your skimmer as it enables you to use the skimmer basket instead of the pump strainer. So, you do not have to turn your pool pump on and off frequently for cleaning.
Skimmer Weirs
These are the essential components for any skimmer apart from the skimmer basket. These are the sort of foam-filled doors that boost the water speed entering the skimmer for more efficient debris cleaning from the surface. When the pump stops, the skimmer weir stands upward to stuck the debris inside the skimmer.
Skimmer Equalizers
Skimmer equalizers are for the combo skimmers with the main drain pipe attached to the bottom of the skimmer, commonly into the hole on the poolside, and the rear hole carrying water to the pool pump. Skimmer equalizers, also known as Skimmer Floats, are used to balance the flow of water across the skimmer and the main drain.
Other Skimmer Accessories
Besides the products mentioned above, several other aftermarket products enhance the pool skimmer performance. These accessories include a skimmer arm, skimmer filter bags, and devices that help regulate the skimmer's function even when the basket is jammed with leaves and debris.
8 Telescopic cleaning pole
The cheapest, but extremely helpful item for our pool cleaning equipment list is the telescopic pole (the longer, the better)
If you own a pool at home, then it's apparent that you're a big fan of fun activities like swimming and other water sports.
Swimming is enjoyable and has other health benefits, such as enhancing your muscle strength and cardiovascular fitness.
Maintenance should be performed regularly for a pleasant and clean pool as the dirt, leaves, and debris pile up at the pool corners, surface and on the floor. Waste spoils your pool and looks nasty and filthy, and nobody wants to swim in it.
In those circumstances, a telescopic pool pole could be your best friend. It helps eliminate dirt and debris from the surface, no matter how far they are.
With a telescopic pool pole, you can have a variety of uses and benefits. You can also attach a vacuum to your telescopic cleaning pole.
The material also plays an essential role in the firmness and longevity of the poles. For instance, the poles made of aluminum are of high strength and are also lightweight.
9 Vacuum head to clean a swimming pool
The pool cleaning equipment vacuum is a cheap but beneficial part of your pool cleaning equipment.
 Manually picking up the debris is a tiring task to do. High-quality pool vacuum heads will complete the job quickly.
You can benefit from having a swimming pool at home with the help of suitable vacuum heads. A pool vacuum head efficiently removes the sticks, leaves, bugs, dirt, and other debris from the pool accumulated in the pool after a summer storm.
Vacuuming your pool is essential for excellent health of your pool. However, it requires a little effort, but the benefits you will get upon cleaning your pool are overwhelming. If you tend your pool regularly, it will be pleasant and alluring. Also, chemicals will have a better effect. 
The following are the qualities of a high-performance delivering pool vacuum head:
It should contain locking clips, making it compatible with all types of poles
It should have good maneuverability
It should have a sleek design and be easy to use
Durable material for extended usage
The design should be perfect for cleaning even surfaces and steps
Its lightweight is a bonus quality
There are different vacuum pool heads used to clean vinyl and concrete pools. The vinyl pool vacuum heads have soft brushes to prevent possible damage to the pool, while a concrete pool vacuum head contains wheels to properly move on the pool floor.
Swimming pool vacuum hose is the last item on our list of pool cleaning equipment.
A clean and tidy swimming pool looks beautiful and has an inviting diving look. Using suitable vacuum heads and hoses, you can keep your pool crystal clear for a small amount of money.
For efficiently cleaning a pool, the equipment generally required includes a good quality pool pole, a pool vacuum head, and a vacuum hose of adequate length. With these three helpful pool equipment, you can thoroughly clean your pool while the pool skimmers suck the surface debris.
A high-quality vacuum hose will not crumble during the suction process nor reshape when placed in a sunny area.
Choosing the vacuum hose with some heavy-duty construction and firm hose cuffs would be best. Always take the adequate length of the vacuum hose because longer hoses need extra work while rolling and priming the vacuum hose. 
Is there an 11th item to our pool cleaning equipment list?
If you think we missed something or if you have any valuable advice for the pool maintenance, please, let us know and share. We update our posts regularly to keep you informed.
Contact us, and we will add "your" pool cleaning equipment item to this post. 
Check our articles in the Maintenace and Safety section to keep your swimming pool safe, healthy, and clean.
For more ideas about fun in the pool, look here at our posts For fun in the pool.