What Should Babies Wear for Swimming?
In some cases, you can dress your baby in a swim diaper and a swimsuit and head to the pool. However, depending on your pool's rules, what kind of activity you're doing, and where you're going, you may need some additional swimwear items.
What Swimwear Do You Need for a Baby?
You may need the following swimwear for your baby:
Swim diaper
Plastic pants
Swimsuit
Goggles
Hat
Water shoes
Lifejacket
Many of these items are up to your discretion as a parent. For instance, if you're going to an indoor swimming pool, you probably don't need to bring a hat.
Other items, such as swim diapers, plastic pants, and a swimsuit with a rash guard, are typically non-negotiable. Check with your pool for specific rules and guidelines regarding required or recommended swimwear for babies and toddlers.
Should Babies Wear Swim Diapers Under a Swimsuit?
Any baby from ages 0 to 18 months should wear a swim diaper under their swimsuit. In fact, most public pools will require this, as it is an issue of sanitation.
There is a big difference between a swim diaper and a regular diaper, so it's important that you get the right kind for your baby.
What Diapers Do Babies Wear in the Pool?
There are two different types of swim diapers that you can get for your baby to wear in the pool:
Disposable swim diapers
Reusable swim diapers
If you're using disposable swim diapers, you can put them on your baby once and then throw them away when you're done with them.
You can wash and reuse reusable swim diapers several times.
Many parents prefer reusable diapers because they're convenient and last a long time, and most brands are more effective in protecting against leakage.
How Early Can Babies Start Swimming?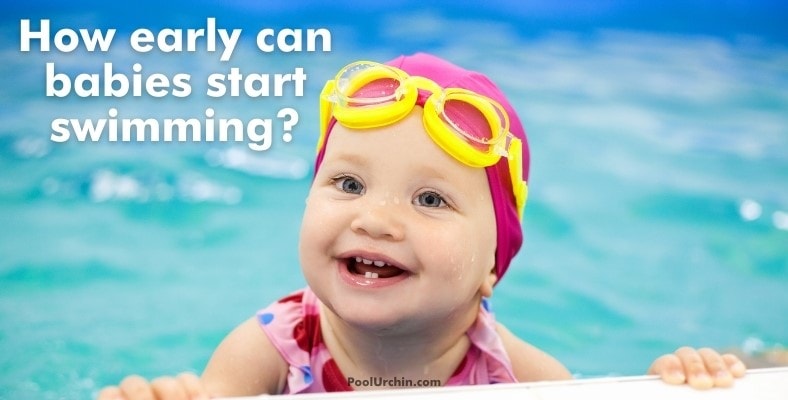 Babies can get into the water as soon as they're born. In fact, most infants have an innate swimming reflex from birth. So go ahead – get your baby in the swimming pool with you!
When it comes to swimming lessons, it's a great idea to get your baby enrolled as early as 6 months old. At this age, your child can explore the water, kick, pull, float, blow bubbles, and more.
Infant Swimming Tips
Taking your newborn baby swimming for the first time can be scary and intimidating – especially for new parents. Use these tips to make the most of the experience:
Use a baby wetsuit for babies under 3 months to keep them warm in the water
Prep everything ahead of time – towels, swim diapers, extra clothing, sunscreen, etc.
Stay alert at all times; accidents primarily happen because parents aren't paying attention
Strongly consider a toddler swim lesson starting between 6 and 12 months old
Invest in a poncho towel for older babies
Limit pool time for infants under 6 months to 10-15 minutes at a time
Bring your baby's favorite toy to increase familiarity and encourage pool time
These tips are just a few ways to make the most of your pool time with your baby.
Should Babies Wear a Lifejacket During Swim Lessons?
Babies one-year-old and older should wear lifejackets, vests, or float suits while in the pool. Lifejackets are considered safer than inflated armbands, as they provide more stability and keep your child horizontal.
During a swim lesson, your babies will likely not wear lifejackets. However, babies and weak swimmers should always wear one outside of class time in all bodies of water for an extra layer of safety.
Always choose a lifejacket that fits properly and is approved by the U.S Coast Guard.